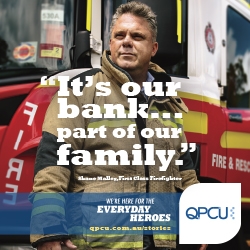 Sydney, Australia, April 03, 2014 --(
PR.com
)-- Queensland Police Credit Union (QPCU) launched their new brand campaign today. Created by Blue Pencil Advertising, the agency was commissioned by QPCU to refresh the brand inline with its new corporate vision, mission and value statements.
At the heart of the new brand campaign is the idea that QPCU is there for the everyday heroes.
James McDonald, Director at Blue Pencil said, "This new brand campaign sits at the core of everything QPCU does. It's why they're different to banks and other credit unions and it underpins what they do and why they do it.
"There is no more compelling or believable story than those told by real people, speaking plainly, honestly and without any ulterior motive. Using the members and their stories for the heart of the campaign, three member's stories were filmed and they show that members understand, believe and like QPCU's approach to their banking needs, and the ways in which they enrich the Queensland community."
The films that were created as part of the campaign can be viewed here:
vimeo.com/bluepenciladvertising
The campaign is supported by the attached Adshels.
Credits
Client: Julia Pearce
Suit: Jannet Lidstone
Creative: Ken Roney & Darren Masters
Contact: James McDonald, 0414 282 269, james@bluepenciladvertsing.com.au
Blue Pencil Advertising
Imagine the love child of IBM and an Ad Agency. That's Blue Pencil Advertising. Combining the best of a communications agency with a team of digital and data nerds, we deliver intelligent marketing solutions. Our work is focused on finding more effective and measurable outcomes for our clients, through originality in technology, creative, media and data.
With offices in Brisbane and Sydney, the agency is privately held and was founded in April 2013 by Directors Tom Evans and James McDonald.