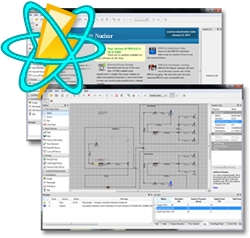 Lacey, WA, April 02, 2014 --(
PR.com
)-- Engineered Software, Inc. has officially released the highly anticipated new nuclear industry piping system product based on its award-winning piping system design software, PIPE-FLO Professional.
PIPE-FLO Nuclear
is an out-of-the-box pipe network simulation software, used to promote best practices by applying a common simulation tool using current industry standards. Use the PIPE-FLO Nuclear package to integrate the accompanying Commercial Grade Dedication into your NQA-1 program to support swift enterprise implementation of the modeling software.
The PIPE-FLO Nuclear software is not only quick and easy to use for simulating safety and non-safety related piping systems, but it allows engineers and system designers to save valuable time and resources by not having to do the intense, Critical Characteristics documentation and spreadsheet validation efforts in-house.
The PIPE-FLO Nuclear program's design and user interface is based on the PIPE-FLO Professional 12 program released in February of this year, beyond the user interface, the programs are completely different. The PIPE-FLO Nuclear software includes additional documentation and methodology that complies with the requirements of 10CFR50 Appendix B and ASME NQA-1-2012. PIPE-FLO Nuclear includes additional reports and has been rigorously tested and includes testing proceedure documentation in the Commercial Grade Dedication as well.
"A comprehensive suite of automated tests supporting a robust program architecture, paired with a well-designed Commercial Grade Dedication, allows us to provide this best-in-class system simulation tool which fits the unique needs of the Nuclear market," says Christy Bermensolo, Chief Executive Officer at Engineered Software.
PIPE-FLO Nuclear can be used to model many of the piping network systems throughout the nuclear industry, including some of the more common systems such as Service Water, Cooling Water, Auxiliary Feed Water, Fire Suppression, and Safety Injection Spray systems; and to proactively analyze alternative flow paths prior to Surveillance Testing.
PIPE-FLO Nuclear Commercial Grade Dedication Documents List
eng-software.com/products/pipeflo/nuclear/
Sign Up for Special Live Web Demo -
Engineered Software has scheduled two live demonstrations of the PIPE-FLO Nuclear software open now for registration: www.eng-software.com/nuclear/
• Tuesday, April 22nd at 9 A.M.
• Tuesday, April 29th at 9 A.M.
These Live demonstrations are presented by one of our expert engineers, capable of answering your PIPE-FLO Nuclear questions, and covering topics such as How the program looks and feels, simulating safety related and non-safety related systems, types of systems, integration into an NQA-1 program, and Engineered Software's Quality Assurance Program.
Additional PIPE-FLO Information & Resources:
• PIPE-FLO Nuclear will be available in two versions, Stand Alone and Network. Consumers can go to http://eng-software.com/products/pipeflo/nuclear/ for more information and a full list of features.
• Preview Video Available here: http://eng-software.com/video/PF12Features/
• Private Web Demos Available – Contact sales@eng-software.com for more information.
About Engineered Software, Inc. (www.eng-software.com) - Founded in 1982, Engineered Software, Inc. (ESI) has created products known worldwide for high end-user satisfaction rates. The company has two award-winning product lines – PIPE-FLO and PUMP-FLO Solutions. With over a hundred thousand clients worldwide, ESI provides software, training and publications across a variety of industries including aerospace and defense, chemical processing, engineering design and consulting, food and beverage, oil and petrochemical, mining and metals, pharmaceutical, power generation, pump manufacturing, pulp and paper, waste water collection and treatment and education.