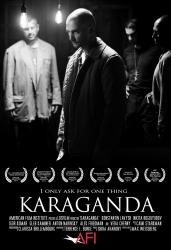 Los Angeles, CA, April 08, 2014 --(
PR.com
)-- "Karaganda", written and directed by Max Weissberg and produced by Shira Aharony, tells the story of Vladimir Bernshtein, a prisoner in a 1950s Soviet prison camp, a gulag located in the Karaganda region of the former USSR. Vladimir has just begun a long sentence for smuggling electronics into the Soviet Union. His wife, Elana, was also arrested for his crime, and is being held at the female part of the same camp - however, he has no idea where she is and how to reach her.
Vladimir's only friend is Aleksei, a political prisoner, and together they work cutting down trees and constructing new buildings for the camp. Aside from having to deal with impossible quotas, an inadequate diet, and a general feeling of hopelessness, Vladimir is relentlessly beaten by fellow inmates who hate him for being Jewish.
With everything stacked against him, Vladimir is reduced to the single option of transforming himself into something he never thought possible, a change that will heighten the chances of survival for him and his wife. He must find a way to join the "Vory v Zakonye", or "Thieves-in-Law", an elite Russian criminal organization going back to the time of the czars. Vladimir faces extremely difficult choices between his love, his friend, and his morality, and must bear the consequences of his decisions.
"Karaganda" packs great intensity into the short film format, and offers a glimpse into a world rarely seen on the big screen.
Interestingly, Weissberg and Aharony decided to cast only Russian born actors. It was important for them to find authentic Russian speakers with the right "look". They searched through regular casting channels, and even posted a Craigslist ad, which attracted Russian speakers from all over the world.
Israeli born producer Shira Aharony has been working between Tel Aviv and Los Angeles for many years. Her work includes new media content, commercials and short films, many of which have seen great success at the international festival circuit, including Cannes Film Festival and Palm Springs International Film Festival. Her previous film, "LIFT", was an official selection of the Austin Film Festival and received Best screenplay award at Visionfest Film festival.
Writer-Director Max Weissberg recently won an award for his feature film "Summertime" at the 2013 First Time Fest, and his directing work has screened at SXSW, Anthology Archives, the Bel-Air Film Festival, and Ovation TV. "Karaganda" is the beginning of a feature film trilogy about a Russian-American crime family.
"Karaganda" has been selected for official competition at the Charleston International Film Festival (CIFF), and will have its U.S. Premiere as part of the opening night of the Festival. In its 7th year, the 2014 Charleston International Film Festival promises to be the most exciting and diverse festival yet, with 78 films, including features, documentaries, animations and shorts, with filmmakers from 11 countries around the world.
"Karaganda" will be screening this Wednesday, April 9th, at 9pm at the Sottile Theatre in downtown Charleston. Following a special March screening at the Directors Guild of America in Los Angeles and its world Premiere at the Contravision International Film Festival in Berlin last week, this screening will kick off the film's US festival run, with additional screenings at the Boston International Film festival later this month and the Santa Fe Film Festival coming in May, among others.
For tickets and screening information, visit the following link:
http://charlestoniff.strangertickets.com/events/13872866/opening-night-block-2