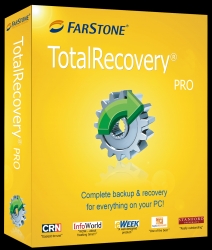 Irvine, CA, April 21, 2014 --(
PR.com
)-- FarStone Technology, Inc. announced a new version of data protection software for Windows 8.1 and virtual environments.
"Customers face data loss and system crash all the time. PC manufacturers get customer complaints every day and have always wanted to solve the problem," said Thomas Lin, CEO of FarStone. "With over 20-year experience in software development, there are millions of uses to prove its reliability. We are confident to release the new version of Total Recovery for the world's needs."
Total Recovery Pro 10 is a professional all-in-one data backup and hard disk imaging solution. Features including system/file backup, hard drive/partition imaging, local/remote backup, password/encryption backup, VMware/Hyper-V backup, Pre-OS disaster recovery manager, dissimilar/universal restore, data shredding & Windows password recovery & Pre-OS drive imaging and more.
FarStone is glad to set up a flexible partnership with system builders and PC manufacturers, and provides customization service. System builders and PC manufacturers can bundle FarStone's premium software with their product to add value for their global users or they can upsell FarStone's software to gain profits as well.
Total Recovery Pro 10 is designed to reduce PC manufacturer's support costs by decreasing the frequency and duration of customer calls. The software also decreases PC return rate from computer issues or user errors. "We have been cooperating with ASUS, MSI and many other renowned companies. They have saved significant costs on maintenance with our software," said Lin. PC manufacturers and system builders have all been enjoying the benefits of using Total Recovery.
Comprehensive Features of Total Recovery Pro:
1. Easy-to-use image backup
Disk image backup of entire server or workstation with schedule backup.
2. File backup
Backup selected files, folders, or types of files.
3. Save Factory Image
For a brand computer, there would be a built-in factory image, and Total Backup Recovery 10 is the only disk imaging software that retains it.
4. Rapid Restore
Rapid Restore merely restore the changed files, greatly improve restoration efficiency, and shorten restoration process to 3 minutes.
5. Backup P2V
Improved virtualization backup technology directly back up your PC into virtual machine image, and allows you to run it in virtual machine immediately.
6. Hard disk bare-metal restore
Restore your computer from scratch in the event of a hard-disk failure; restore an exact copy of your computer to a new hard drive.
7. Dissimilar Restore and Universal Restore
With Total Backup Recovery build-in Dissimilar Restore feature, you can restore to original or similar computer, or even to a virtual machine without any hassle.
8. Support for all major file systems, MBR and GPT, BIOS and UEFI
About FarStone Technology, Inc.
FarStone Technology, Inc. is a pioneer in PC and server backup, Windows system disaster recovery and storage management. Founded in 1993, FarStone Technology provides easy-to-use and powerful disk imaging, snapshot recovery, drive partitioning, PC recovery, and dissimilar restore software and solutions.
Contact:
info@farstone.com
http://www.farstone.com