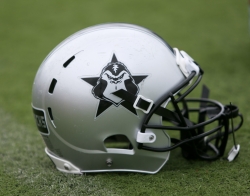 Lincoln, NE, April 09, 2014 --(
PR.com
)-- Star City Select(SCS), fresh off a national championship season with it's inaugural football team of young men ages 11-12, is excited to announce the expansion of their football program in a continued effort to serve the youth of Lincoln.
The Silverbacks will compete in the Great Plains Pop Warner League. Pop Warner Football is the largest youth football program in the world and is the only national youth sports organization that requires scholastic aptitude to participate. The Silverbacks are also members of USA football and all coaches are trained in the "Heads Up" program aimed at emphasizing safety, proper fundamentals and technique in tackling.
The Silverback program was inspired by the National Football Academies (www.nationalfootballacademies.com/) where Director of Football Operations Chad Case serves as a Certified Coach as well as Director of Nutrition. Says Case, "I've witnessed first hand the effectiveness of the NFA curriculum. The systematic approach they take position by position is incredibly effective for comprehension and maximal development. Watching these young men not only learn, but to then in turn execute at a very high level in intense situations is powerful to see. It not only helps to prepare them for the rigors of high school athletics, but the rigors of life as well."
The Silverbacks welcome young men ages 6-14 to register for their free clinic and assessment designed to give young men the opportunity of playing football and getting acquainted with the Silverback program. Interested individuals can read the FAQ and register at
starcityselect.com/
.
Star City Select is a non-profit organization aimed at being be recognized as a premier athlete development organization in Lincoln driven by serving young athletes to help them develop a love and appreciation of intense competition in athletics, while maintaining a balance and intent focus upon academics. They are committed to creating an environment of discipline, self respect, and success while maximizing the growth and development of individuals athletically, academically and socially in their quest to be their best.