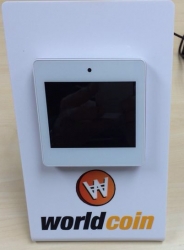 Dubai, United Arab Emirates, April 10, 2014 --(
PR.com
)-- Worldcoin Limited today announced the launch of its Worldcoin shopping card network, starting with its strongest and still growing network of 80 retail merchants in Dubai. With this exciting development, users can now access the wide variety of shops currently accepting Worldcoin as a currency. The Worldcoin card is integrated to the user's online Worldcoin account, and the user can walk into any Worldcoin partner merchant, simply tap his Worldcoin card onto the merchant store's card reader, and can view and use his Worldcoin balance to exchange for any of the merchant's products, based on the prevailing Worldcoin exchange rates which are denominated in 20 currencies presently.
Mr Hamid Rashad, owner of 3 jewellery shops in Dubai that uses Worldcoin, shared happily in an interview, "Previously, our clients that wanted to use Worldcoin to transact and make purchases had to login to their online account via their smartphone, and transfer the amount they wish to use to our account. That was fine, but presented a problem to some users who did not have an internet connection on their mobile phones. Thus, this new card allows more options to pay with Worldcoin, and I believe my business will grow because of this."
Another merchant, Mr Ahmed Khan, owner of a branded watch dealer in Dubai who just started accepting Worldcoin this month, said, "We have many customers from all over the world. These are usually tourists who come here to shop for a good deal. With Worldcoin's availability in 20 different currencies and increasing user base worldwide, it offers me even greater exposure to more potential customers."
With this development, Worldcoin eyes expansion into more retail markets, setting its foot on a traditional retail marketplace that has till now not yet fully embraced the recent wave of digital currencies. Sources have also revealed that Worldcoin is now in the final development phase of its full services smartphone app, which will cover all current features and add even more functions. Together with the recent approval of a full international payment services license from the Panama Ministry of Commerce, things are indeed looking up for Worldcoin!
About Worldcoin
Founded in 2003, Worldcoin Limited (www.coinworld.org/www.wcoin.org) ran its operations as an IT development firm specialising in payment services and consulting. In 2011, Worldcoin Limited successfully launched its own virtual currency Worldcoin. Contrary to its counterparts, Worldcoin is a digital currency with a centralized issuer and a dedicated exchange, which is run on its website. It also owns an operational license from the Panama Ministry of Commerce for its new subsidiary Worldcoin International Corp, covering the areas of business including electronic payment solutions and online/offline third-party payment processing. Worldcoin currently trades in 20 currencies, and has market value of 0.27 USD per Worldcoin as of date of this publication.