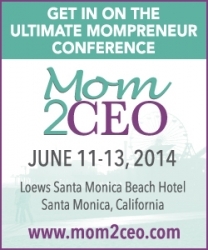 Los Angeles, CA, April 16, 2014 --(
PR.com
)-- Take a break from the carpool, the laundry and the kids' playdates—it's time to write up your business plan.
The
Mom2CEO conference
will converge on the Santa Monica Beach Hotel in Southern California from June 11 to 13, offering enterprising mothers the opportunity to network and develop a true plan for success. Led by moms, the conference will feature presentations from fellow moms as they relate their personal business journeys. Several hundred conference goers will benefit from motivational discussions, mentoring from successful "mompreneurs" and engaging speakers.
"We want to motivate and inspire you, whether you have a new home-based business, are growing a business, or just want to network," says Lori Carrese, the President of Mommy Gateway and
Mom Expo
.
Carrese's work at Mommy Gateway has led to five years hosting the Mom Expo, which will travel to five cities in 2014. Her trips across the country have opened her eyes to the financial concerns and increased numbers of moms who are striving to help support their families with entrepreneurial and work-from-home ventures. Mom2CEO seeks to provide a platform for inventors, direct salespeople, publishers, service-industry innovators, and more as they learn from moms who have turned their passion into success.
Mimi Donaldson will deliver the Mom2CEO keynote address, blending her business acumen, humor and considerable experience as an author, speaker and business advisor. Donaldson was the pitch coach on "American Inventor," has served as a visiting professor at the Harvard School for Public Leadership at the Kennedy School of Government, and enjoyed a successful career as a human resources specialist at the Walt Disney Co., Kraft and Rockwell International. She is the author of "Negotiating for Dummies," which has sold over 1 million copies worldwide, as well as "Bless Your Stress: It Means You're Still Alive!" and "Necessary Roughness: New Rules for the Contact Sport of Life."
Mom's will receive KEY Takeaways such as professional head shots and interviewed video spots. "Swag is great, but moms also need fundamental and practical takeaways from conferences that they can just plug and play in to their business as soon as the same day they attend which will be delivered at Mom2CEO," Carrese further states.
Current sponsors include Need Brands, The Bump, Mabel's Labels, Mommytrain.com, Club MomMe, Home-Based Working Mom, and MomLifeTV. Sponsorship and exhibitor opportunities are still available for the Mom2CEO event. More information is available at www.mom2ceo.com, and interested attendees may visit the website to register to attend. The event will include moments of illumination, networking events and a Mom's Night Out mentor meet-and-greet in a more informal setting.
"In this economy, so many moms are looking to return to the workforce, or work where they haven't done so before to contribute to their household," Carrese says. "Many moms may be afraid to step into a position which demands a heavy investment, or they may have a great idea but don't know how to approach it. They need support, and Mom 2 CEO will provide skills and network to empower, motivate and inspire them."
For more information on the Mom2CEO Conference, visit www.mom2ceo.com. For more information on Mommy Gateway, visit www.mommygateway.com. Follow us on Twitter at
www.twitter.com/mom2ceo
and Facebook at www.facebook.com/mom2ceo