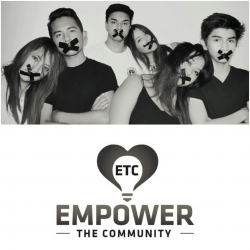 Redondo Beach, CA, April 17, 2014 --(
PR.com
)-- Send them your most creative selfie, during your pledge to silence, on April 17, 2014 and be entered to win a $25.00 visa card, ETC hat and wristband. All you have to do is send your selfie @empowerthecommunity and #listenloveempower or text it to (424) 789-4480 by April 18, 2014 at 11:59 pm PST. The selfie that represents day of silence and sends the strongest message will win. Winners will be announced on April 19, 2014.
Join ETC in remembrance of those who are no longer with us, due to, teen suicide and create awareness about this, bullying and discrimination against humans by pledging silence for 1 minute or up to 24 hours on Thursday, April 17, 2014.
Send them your pledge via:
Twitter: etc_movement
Instagram: empowerthecommunity
Text: (424) 789-4480
What will you do to end the silence?