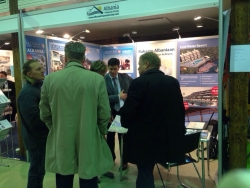 Tirana, Albania, April 21, 2014 --(
PR.com
)-- During 29 and 30 of March 2014, Albania Property Group participated in the Helsinki property exhibition organized by Fair Media International at the Wanha Satama located at Skatudden Lilla Hamngatan 3-5.
Fair Media represents the biggest property fair for Properties Abroad in the Nordic countries.
Exhibitors had come from 10 countries around the world. All of them wanted to market their properties to qualified Finnish buyers. They were made up by agents, brokers and builders as well as other companies.
Despite the crises that EU went through, the present economic situation in Finland and the expectations are such that make the Finnish very positive for the future and to look for their property abroad.
Managing Director of Albania Property Group, Mr.Ilir Konomi emphasized that Helsinki exhibition was a very successful event in many aspects. A lot of visitors came during the 2 days of the fair. Their interest was high even though not all of them knew about
Albania
and its beauties. Visitors in general asked for details about the featured projects in their stand: Lalzy Bay Resort near Tirana International Airport, Cold Water Resort in Vlore, Fafa Holiday Complex in Golem beach south of Durres, and Dhermi Elite Complex in Albanian Riviera.
Many others asked questions about the purchasing process of real estate in Albania. The Albania team explained how the process works and they also were given the Albania Property Guide 2014. The guide provides deep insights into legal information, taxes and fees related to a purchasing transaction in the
Albania real estate
market as well as services provided by Albania Property Group.
He continued saying that all visitors had in common the dreams of owning a property overseas. As the Finnish public becomes more knowledgeable and informed on Albania and Albania property market, such a step is easier to take now.
Mr.Ilir Konomi took the opportunity to thank some of their Finnish clients that have purchased with his company in the past who came to visit their stand. According to him there been some very frank exchanges among their old clients and the exhibition visitors. The theme of their discussions was Albanian culture and hospitality, the pristine beaches, the food which is very good and with very cheap prices.
Albania Property Group is an Albanian owned company that promotes real estate and tourism in the coast of Albania. They have served hundreds of foreign buyers of Albanian real estate and many more tourists that come to visit this beautiful country and spend holidays in the wonderful beaches of Durres, Vlora, Riviera and Saranda.
For more info you can visit us in www.AlbaniaPropertyGroup.com