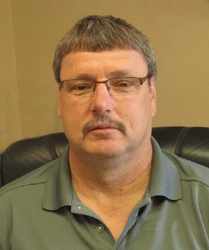 Waukesha, WI, April 23, 2014 --(
PR.com
)-- DUECO, Inc., the largest privately owned provider of Terex Utilities and Terex® Hi-Ranger bucket trucks, digger derricks, cranes, stringing and tension equipment, and utility trailers in the country, has announced the promotion of Ken Vlasman to the newly created role of Director of Service. In his new role, Ken is responsible for leading DUECO's expert service teams in six service centers throughout the organization and directing and expanding the highly regarded DUECO training solutions. Ken will be located in Watertown, South Dakota.
Ken started his career with DUECO in 1989 and served as a field service tech until 1998, when he became Shop Supervisor and then Service Manager. He was named Western Region Service Manager in 2006. Throughout his 25 year career with DUECO, he has developed strong customer relationships to significantly grow the service business. Ken is Fluid Power Certified, is an NCCCO Digger Derrick Crane Certified Operator, and has conducted numerous industry related service schools.
DUECO, Inc. is a women-owned business and the largest independent provider of Terex bucket trucks, digger derricks, and cranes for the utility market in the nation. Additionally, DUECO manufactures custom utility truck bodies; distributes mini derricks/aerial lifts, stringing equipment and trailers; and supplies tools and accessories for all truck brands. Family owned and operated since 1955, DUECO's philosophy of teamwork, integrity, and open communication with customers and employees ensures high quality equipment at the best value. With headquarters in the Metro Milwaukee area, DUECO services customers 24/7 in fifteen states. To learn more, visit dueco.com or call 800-558-4004.