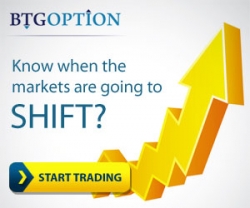 London, United Kingdom, April 24, 2014 --(
PR.com
)-- A valuable addition to the trading arena.
BTG Option has recently launched its brand-new trading platform, creating a buzz throughout the entire trading community.
Under a new management, made of a team of highly-experienced financial experts, BTG Option has turned its site into an elite trading arena, and is currently offering exclusive features and benefits to its traders.
The site has underwent an extensive re-design and renovation, including a brand-new, innovative trading platform implemented in it, which has turned trading to a unique experience, ever-simpler.
"We are extremely proud of our new & improved site," says Owen Masters, VP Marketing at
BTG Option
. "Our research department has invested a great deal of efforts in figuring out what it is that traders want and need. In today's competitive trading arena, we know it takes more than just great bonuses and payouts to be successful as a binary options broker in the long-run…so we made sure we offer not only those, but also an entire trading experience which is truly second to none."
As such,
BTG Option
offers a wide range of financial instruments and underlying assets, available from across all global markets. The site's platform enables trading with either High/Low Options; One touch; Boundary or short-term options.
All of these methods have grown in popularity amongst worldwide traders, as they provide a simple trading mechanism, alongside high return rates: payouts start at about 65%, going all the way up to 95%, while expirations start at merely 60 seconds.
Being afforded with the opportunity to generate themselves with significant, lucrative return-on-investment, is one of the great advantages of binary options trading, and one of the main reasons it has become so widely popular. With binary options trading you don't need to wait months or even years for your investment to mature. Plus, you don't need to pay for any middlemen or brokerage like you would in traditional trading. Another great advantage of this type of trading is the ability to generate a substantial profit while controlling your risk.
"We know our traders are looking for both profitability & simplicity. That's why we took it upon ourselves to deliver both, by creating a world-leading trading platform and a user-friendly interface, while still offering some of the highest return rates available in the binary options industry," says Masters. "I'm confident that any trader who starts trading with us will stay for the long run. That's exactly our purpose: to create long-term relationships with our trader."
The simplicity of which Masters talks about is well sensed throughout the entire site and platform, as all stages and aspects of the trading process were simplified to the maximum, allowing quick & easy signups, deposits and withdrawals.
The site also accounts for a thorough educational center and various trading tools available for traders of all skill levels, including daily financial reviews, eBook, videos and other educational supplements, designed to improve both the knowledge and the techniques of traders, regardless of their level or expertise. The site also provides professional Faunus signals, sent to traders on a daily basis.
As part of its big launch, BTG Option will be offering some exclusive terms and bonuses within the near future. These include: lucrative deposit bonuses and redeposit bonuses; free demo account; daily professional signals; free training sessions with professional analysts; personal account managers; risk free trades and many other unique perks and benefits.
Want to hear more about these unique offers? Go to
https://www.btgoption.com/special-offers/