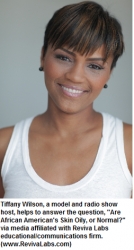 Bala Cynwyd, PA, April 25, 2014 --(
PR.com
)-- The assumption that oily skin- -or its appearance- -is inherent on African Americans is not necessarily true.
The shiny look on African American skins is not excess oil or sebum (commonly called "greasy look"); but a surface "mantle" that is different than white skins.
An unwelcome "look" of oily skin on beautiful black skin can be easily treated.
Skin scientists have researched the situation, and in accord with one of America's longest-established skin care product manufacturers have just released information on oily-looking skin, and how to control it.
To repeat, African American women should treat their skins as normal- -not oily.
According to the aestheticians and experts of natural skin care formulations at Reviva Labs, Haddonfield, N.J. (www.RevivaLabs.com), simple once-a-week use of a Light Skin Peel or an exfoliating product can be a vital cleansing supplement and help eliminate the greasy or shiny look.
Reviva Labs also stresses that many African American women aren't familiar with "Light Skin Peel" or exfoliation; but that it's one of the greatest skin beauty aids an African American woman can use.
Once-a-week use of Reviva's natural, non-chemical "Light Skin Peel" of dead, hardened skin cells is particularly important, he says, because darker skins produce more build-up of dead skin cells weekly than Caucasian skin. Thus, Reviva's Light Skin Peel not only fights the "oily" look it also produces a softer, smoother skin texture.
There can also be twice-a-week use of scrubs for improved skin tone and clarity.
But cleanse carefully.
Oily skin can be aggravated by oil-rich cleansing creams. Instead, liquid, less-oily Cleansing Lotions are recommended. Lotions also penetrate pores more deeply than creams to flush out dirt and makeup debris.
Some Cosmeticians will sometimes advise African American women to use strong drying soaps, strong astringents (even straight alcohol), and other creams and masks to dry up the "excess" oil.
"This is incorrect," claims Stephen Strassler, president of Reviva Labs and one of America's earliest Aestheticians. As stated, "African American women should treat their skins as NORMAL- -and use milder cleansers and fresheners."
"And", he adds, "If there is ever a surface dryness caused by over-drying products, avoid using heavy mineral oil or cocoa butter creams. Use light moisturizing products instead."
As part of its service to the African American community, Reviva Labs provides free info on benefiting African American skin care problems. Questions and answers can be gained thru www.RevivaLabs.com and/or via Facebook at www.Facebook.com/RevivaLabs.
Note to Editor: A sample can be mailed to the Editor directly from Reviva Labs. Please let us know if there is a special name and address to whom an additional sample should be sent. Contact: Elena Cruz, American News Services, at 29 Bala Ave., Ste. 114, Bala Cynwyd, PA 19004; Tel.: 484-562-0060; E-Mail: adcomtimes@aol.com.