Entrex Private Company Index Featured at Fortune Small Business Growth Summit
Entrex CEO Stephen H. Watkins and President Larry P. Roches are attending the October 23-24 Fortune Small Business Growth Summit in Las Vegas, a program presented annually by Entrex strategic partner Gazelles. Representing the Private Company Index (PCI) which is Entrex's proprietary market index that publishes a monthly measurement for overall revenue growth in the private sector. September 2007 Index results will be debuted at the event, including monthly index performance, the PCI Top Five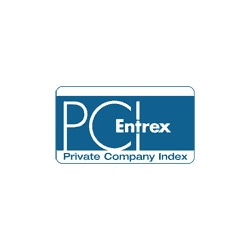 Chicago, IL, October 10, 2007 --(
PR.com
)-- Entrex CEO Stephen H. Watkins and President Larry P. Roches are attending the October 23-24 Fortune Small Business Growth Summit in Las Vegas, a program presented annually by Entrex strategic partner Gazelles. Mr. Watkins and Mr. Roches are specifically representing the Private Company Index (PCI) which is Entrex's proprietary market index that publishes a monthly measurement for overall revenue growth in the private sector. September 2007 Index results will be debuted at the event, including monthly index performance, the PCI Top Five Growth Companies for Q3 and the recent quarter's installment of ongoing CEO perception and trend data related to capital availability, debt and employment.
The venue is ideal for Entrex, a five year old organization aimed at providing a NASDAQ-like marketplace for private companies with $5 - $100 Million in annual revenue who are seeking growth capital. The fifth annual FSB Growth Summit attracts participants who are senior executives at companies in search of the best tools and information to plan and execute significant corporate growth—many drawn to the event by a line-up of sought-after CEO speakers with relevant expertise like Kinko's founder Paul Orfalea and Verne Harnish of Gazelles.
As a sponsor of the Tuesday evening cocktail gathering, the Private Company Index's main goal is to recruit additional companies to their portfolio—an index that's heavily utilized by the traditional and institutional investment community.
"The PCI is the most efficient vehicle for these companies to gain some level of recognition from Wall Street financial and capital market professionals. We've worked for over two years to establish credibility and build support for our Index from the financial news media. As it's based on real-time revenue figures it's a literal tracker of the trends in performance of private firms all over North America." offers Mr. Watkins.
The PCI is currently reported on an aggregate basis with detailed portfolio information remaining confidential. However, the executive duo plans to use this appearance at the FSB Growth Summit to announce the 2008 launch of the Private Company Composite Index (PCCI) an investment vehicle which is being institutionally funded to invest in a diverse selection of PCI companies. This is the first opportunity for PCI companies to gain individual access to this type of audience and submit themselves for review per Fund criteria.
For more information please visit www.privatecompanyindex.com and www.entrex.net. (PR)
About Entrex:
Entrex works with private companies and accredited/institutional investors creating a venue where investors can find, research, track, manage and trade interests in private companies. Through its innovative approach Entrex is creating a whole new path to capital for entrepreneurial businesses. Ticker symbol (NASDAQ: NTRX) is reserved for their anticipated publicly traded entity.
###
Contact
Entrex
John Ferguson
(260) 426-4401
www.entrex.net

Contact