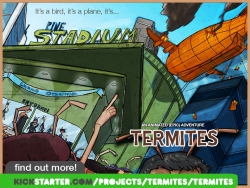 Los Angeles, CA, May 02, 2014 --(
PR.com
)-- Termites is an animated (epic) adventure about a colony of termites living in Anne Rice's house - which is about to be fumigated.
Right now, the minds behind the project (writers, artists, animators and composers) have a
Kickstarter
campaign to build support for the animated project. The campaign kicked off at the 2014 WonderCon Convention in Anaheim, CA and ends on May 17.
The Story: Facing eminent destruction and genocide, a Scientist desperately fights against the clock to save his son, Larkin, and launch him out of the house - where he lands in the house next door bringing haunting signs of things to come. There he meets Boodank, a lovably awkward teenager with an imagination out of this world.
The Creators: Written by Barrett Kime, Tighe Damron and Tom Wentworth with art direction by Matthew Hill and music by Melanie Makaiwi. Barrett, Tighe and Tom are full-time producers / writers for NBCUniversal, Matt is a full-time artist and Melanie is a musician and event producer for LA's NPR station, KCRW.