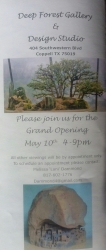 Coppell, TX, May 05, 2014 --(
PR.com
)-- The
Deep Forest Gallery & design studio
is proud to announce the Grand Opening of its new home - a street level, unique indoor and outdoor gallery located at 404 Southwestern Blvd., in Coppell, Texas.
To celebrate this magical event, the Deep Forest Gallery & Design Studio is pleased to present First Look, group exhibition featuring works in a variety of media from longtime gallery team of professionals and craftsmen who have been working together for over two decades as well as new additions to the gallery during its much anticipated Grand Opening; May 10, 2014. Opening Gala is Saturday, May 10th, 4pm to 9pm.
"The principle concept behind Deep Forest Gallery was to not only showcase our in-house capabilities, but to join with other passionate artists to celebrate artistic diversity and offer it to a growing number of patrons. We hope that you will come and experience Deep Forest.
"Collectors will definitely appreciate the level of art we exhibit indoors as well as outdoors from acclaimed and emerging artists working in a variety of styles and mediums. We have a synergetic rapport with our artists and are highly dedicated to assisting every collector—whether they are a new art enthusiast or knowledgeable art connoisseur."
About The Deep Forest Gallery & design studio
We represent exceptional contemporary artists who work in a variety of styles and mediums. Deep Forest Gallery is a unique and intimate indoor and outdoor exhibition space in the heart of Coppell, Texas, offering work from artists who are dedicated and committed of exceptional quality and dedication.
Master of Ceremonies will be the honorable Judge Mike Farhat.
Featured Artists:
Larry Leone, Rick McCoy, Lori Snyder, Lillian Love Kennedy, Antoaneta Hillman, Stewart Alonzo, Diana Chase, Diane Flynn, LeAnn Boyce, Katherine Boyce, Lisa Cardenas, Jim O'Keefe.
Gallery is by appointment only:
Email: deepforestgallery@gmail.com
Website:
www.deepforestgallery.net
Phone: 972-393-1609