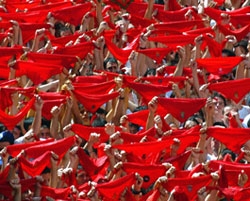 Pamplona, Spain, May 14, 2014 --(
PR.com
)-- Working directly with individuals and travel agents from around the globe, Iberian Traveler's "Sanfermín Tours," Peña Seattle and Incoming Navarra offers exclusive packages for their clients, including special VIP Packages for the opening days of the fiesta, a pintxos and fireworks program beginning on the 6th of July, and bullfights in the Plaza de Toros from 6 to 14 July.
Iberian Traveler also offers exclusive wine and gastronomy tours of the Kingdom of Navarra and the Rioja from the 8th to the 13th of July.
VIP Packages include a private balcony for the opening ceremony, the "chupinazo," a special celebration lunch following the running of the bulls, and a pintxos and fireworks programs offered each evening from the 6th through the 14th.
In addition to the VIP Packages, Iberian Traveler's Sanfermín Tours offers Basic and Standard Packages from the 5th through the 14th of July, with a two-night minimum stay required for all packages.
Join Iberian Traveler, Peña Seattle de Sanfermines and Incoming Navarra in one of the most unique celebrations in the world, a once in a lifetime experience. It's a great experience for friends and families and should be on everyone's bucket list. An event not to be missed.