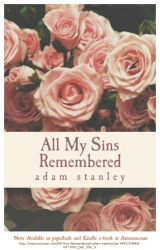 Atlanta, GA, May 21, 2014 --(
PR.com
)-- The new novel, by GA poet, Adam Stanley, released this week by Brief Candlelight Publishing, explores the sometimes dark, and the often wondrous world of growing up in a small, Southern town in the late 1980's, and early 1990's. It's 2009, and the protagonist, Andrew White, finds himself at a point of no return. Looking for a way to escape his 20-year obsession with Leigh Mallory, he sweats out a hot July night in a cheap motel room, mulling over his life thus far, and debating whether or not he should continue. At heart it is a love story. In a way it's a love letter to the past, but All My Sins Remembered is also a reckoning with the ghosts of drugs addiction, and mental illness that have haunted several of the characters throughout the years. It explores the guilt we all feel, at leaving others, and being the one that is left behind. It is an eloquent paean to first love, intermingled with all too real instances of the violence and other problematic behavior that pollutes even the most sweet, and peaceful dreams. Definitely a must read for anyone who enjoys a story about the excitement of growing up, and the fear of growing old.
It is now available in paperback and e-book on Amazon.com.
Adam Stanley has established a large following of readers on several social net working sites such as Tumblr, and Facebook where it has been heavily promoted for the last year. Several of his readers have expressed great anticipation about the release, some having even waited for almost three years to finally get the chance to read it. One fan, Brida Kuhs said: "I've been looking forward to this book coming out for ages and it's out now - if you want to feel, seriously, give it a go, I've been reading excerpts for a couple of years now and every one has been awesome."
Adam Stanley has been publishing poems and short stories for the last twenty years. Some of his credits include, The Old Red Kimono, The Prairie Schooner, and Chum. He is an amateur musician and music lover, and his works are often imbued with a musicality that he still retains from his days as a rock musician and a student of Classical piano. He lives in rural Georgia. All My Sins Remembered is his first novel.
Brief Candlelight Publishing is an independent publisher based in Rome, GA.