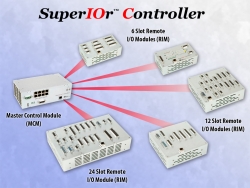 Scotts Valley, CA, May 28, 2014 --(
PR.com
)-- The new SuperIOr™ Controller system from Digital Dynamics is composed of a Master Control Module (MCM) and as many as 16 configurable Remote Interface Modules (RIMs) distributed throughout the controlled machine. RIMs, with customer specified field connect PCAs, may be located up to 250 cable feet from the MCM and therefore installed in close proximity to their interfaced devices. Standard CAT6 cables provide dual-redundant communication links between the MCM and the distributed RIMs delivering update rates up to 8 kHz (125 µs scan time) with extraordinary timing accuracy (+/- 30 nanoseconds jitter). The system typically operates under the control of a customer supplied supervisory host computer or it can operate autonomously as the system computer for the entire machine.
Any number of I/O points in any combination of RIMs can be interlocked together and acted upon every 125 usec. Safety interlocks integrated and electronically configurable, reducing hardware design spins while providing the ultimate in safety interlock integrity.
The Remote Interface Modules (RIMs) are custom configured to support sensors and actuators throughout the controlled equipment. RIMs are available in various sizes and can be populated with up to 24 plug-in I/O cards specifically designed for industrial machine control applications. The cards support fast digital and very high-resolution analog I/O as well as precision temperature control and serial bus communications to smart devices. Information at www.digitaldynamics.com and SEMICON booth 535.