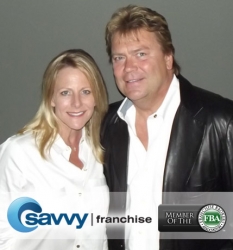 Atlanta, GA, May 23, 2014 --(
PR.com
)-- Financial independence can become a reality according to Atlanta Franchise consultant team Ken and Amy Elias and the quickest way to that financial independence is often investing in a prepared food franchise. For savvy business executives looking to "reboot" their lives, quick-service food franchises represent a great investment and, often, a new lease of life. The couple lead Savvy Franchise, a franchise broker that specializes in putting together investors and hot franchises that match their needs and desires.
"Owning your own business not only puts you in control of your own future, you're also helping the economy and people by providing immediate jobs in the Atlanta area. But it's also difficult to do by your self. When you buy a franchise, the franchisor offers support, experience, and knowledge to all aspects of the business," commented Ken Elias. "They have been there so they know what challenges will arise and the best way to overcome them."
Business executives and investors coming from a corporate background often find themselves uniquely qualified for the opportunities in the franchise world where there's an emphasis on motivating employees, closing sales and managing well run operations – all skills they have picked up in their past experience. Savvy Franchise touches on these issues and more in a free "Insider's Guide" available from their website.
Some of the prepared food franchises represented by the team include Carl's Jr.; Currito Burritos Without Borders; Erbert and Gerbert's Sandwich Shop; Flamers Burgers and Chicken and Hwy 55 Burgers Shakes and Fries. All of these are hot quick-service food opportunities that are on the rise and offer a smart business person a chance for real success.
All of the services of the company are free to the investor and potential investor. If a decision to invest is made the marketing and administrative costs of the company are picked up by the franchisors themselves.
For more information on Savvy Franchise and the franchise opportunities available visit
www.savvyfranchise.com
, or call them at 706.453.1404.