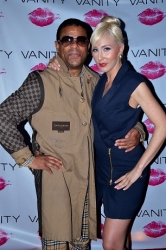 New York, NY, May 24, 2014 --(
PR.com
)-- May 22nd, "A Night of Vanity" brought together eye candy from APM Models, business owners, members of the press, and other VIPs to enjoy great entertainment, while sampling "Rich Bitch" a signature drink for Vanity Drink, the most innovative new beverage that has created The New Happy Hour..... Vanity Drink which was hosted by Editor Extraordinaire George Wayne.
Vanity Drink is a beautifying and youth-preserving drink that's carving out a new niche in the drink and supplement market and night life.
"'A Night of Vanity' was the the perfect opportunity for Be Care Services to introduce the product to industry professionals and women we want to buy it: entrepreneurs, trendsetters, fashionista, celebs, jet setters, and socialites," explained Hezinger.
"Vanity is just as much about embracing inner beauty as it is about hydrating and revitalizing the skin," she continued. "That's why we've added brain-boosting ingredients to the mix. Equally importantly, Vanity encourages proper hydration; the natural fruit flavor is definitely cool and refreshing."
Some of the active ingredients of Vanity include resveratrol, coffee bean extract and green tea extract, among others. The drink's unique formula contains zero preservatives and zero manufactured chemicals, making Vanity a 100% natural health and vitality supplement. Health professionals have identified reversatrol as a potent weapon in the fight against heart disease, cancer, and diabetes. The natural compound is also thought to increase lifespan. Meanwhile, great tea extract is prized for its obesity-fighting qualities; many studies have shown that green tea extract is a preventative measure against Parkinson's and Alzheimer's diseases, two of the most pernicious neurological conditions. Coffee bean extract is known to speed up the metabolism.
Unlike other supplements that sometimes disregard the taste factor, Vanity combines all of these remarkable and proven ingredients together in a fruity and fulfilling 8.4 ounce drink. Satisfied customers overwhelmingly agree that Vanity is by far the most appealing health drink available.
Vanity is currently available online at vanitydrink.com, in addition to multiple natural food stores, boutique hotels, and health and beauty spas.