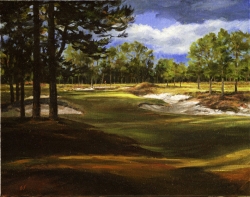 Powell, OH, June 03, 2014 --(
PR.com
)-- Special Edition Giclée Prints of Original Oil Paintings by Guy Salvato Depicting Pinehurst No. 2, Site of the 2014 Men's and Women's U.S. Open Championships Now Available
Golf Impressions Plus, an online gallery featuring the golf course landscape paintings of Ohio artist Guy Salvato, announced today the release of a Special Edition series of framed Giclée prints depicting Pinehurst No. 2, site of the 2014 Men's and Women's U.S. Open Championships to be played in consecutive weeks between June 12-22.
The special series consists of six original oil paintings of Pinehurst No. 2, the crown jewel of the Pinehurst Resort's eight famed courses, including the par 4 #4 and par 5 #5.
"Since settling here many years ago to escape cold and snowy Ohio Winters, The Village of Pinehurst has become my second home and for that reason this particular series of paintings of No. 2 has very special meaning to me," said artist Guy Salvato. "I wanted to create something unique that would honor Pinehurst's incomparable place in American golf history and serve as an appropriate commemoration of the U.S. Open and U.S. Women's Open Championships to be hosted here in June. I enjoyed creating these compositions almost as much as playing the holes themselves and I hope these framed canvas prints can provide others with a lasting memento of their own Pinehurst visits and experiences."
The Special Edition Giclée prints are produced on museum-quality canvas using high-quality archival inks and framed in one of four available styles (gold, black, wood grain, pearl). Each canvas is packaged in sturdy commercial-grade cardboard containers designed to securely transport framed fine art and shipped FedEx Ground. Actual print sizes match the original painting sizes (11x14, 12x16 or 14x18) and are priced at $129 each.
For more information, please visit the Golf Impressions Plus Etsy shop at
https://www.etsy.com/shop/GolfImpressionsPlus
or email
info@golfimpressionsplus.com
About Golf Impressions Plus
Golf Impressions Plus is an online art gallery featuring the golf course landscape and other paintings of Ohio artist Guy Salvato. Giclee reproductions, original and commissioned pieces are available to individuals, businesses, and private and public golf clubs. Guy's paintings have been exhibited in galleries throughout the U.S and were featured in The Academy of Golf Art's 2005 Juried Exhibition. Most recently, Guy's golf course landscape paintings were featured in Golf Style: Homes and Collections Inspired by the Course and the Clubhouse, published in 2010.