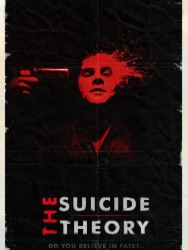 Los Angeles, CA, June 03, 2014 --(
PR.com
)-- The Aussies are coming… to Hollywood for the world premiere of their career-launching indie film "The Suicide Theory". Director Dru Brown and producer-brothers Christian and Jacob McCarty, of Seven8 Media, along with the film's star Steve Mouzakis (I, Frankenstein; Where the Wild Things Are; Darkness Falls) are coming to Hollywood from Australia for the June 4 World Premiere screening in Dances With Films at TCL Chinese 6 Theatres.
Mouzakis is devastating in the role of "Steven Ray," a hit-man who suffered a personal tragedy and lashes out at the world with brutality and reckless abandon until a chance encounter with a new target named Percival. Acclaimed award-winning stage actor Leon Cain shines in a both humorous and sensitive portrayal of "Percival," a heartbroken man desperately failing at multiple suicide attempts. The Suicide Theory's original script was written by Michael J. Kospiah and the film was produced by Brown and the McCarty brothers along with Dan Macarthur, Melanie Poole and Waynne Videroni with Executive Producers Darwin Brooks and Aaron McCarty.
"Our goal with The Suicide Theory as filmmakers is for it to open doors and land us some meetings in Los Angeles. We were thrilled when Dances With Films accepted the movie in competition. We instantly jumped at the opportunity to showcase the movie in the heart of Hollywood and began to plan our trip to attend the World Premiere and meet with some agents and managers. For everybody involved, we would love for the film to find an audience and get distribution of some sort, of course, and we want The Suicide Theory to be our calling card," said Brown, director.
In The Suicide Theory, a heartbroken man, Percival, mysteriously unable to successfully commit suicide hires a demented killer, Steven, to assist him in suicide. Percival believes he is cursed after miraculously surviving several suicide attempts; Steven thinks Percival is desperate and delusional. After Percival miraculously survives several of Steven's attempts on his life, Steven starts to believe. He attempts to help Percival figure out ways to break the curse, and in the process, they form an unlikely friendship through the common bond of tragedy.
Trailer: https://www.youtube.com/watch?v=OFPPZJdi0Zc
DWF website listing:
http://www.danceswithfilms.com/slt_the_suicide_theory.html
Tickets: https://www.movietickets.com/purchase/perf_id/742082240/movieid/187624/language/o
The Suicide Theory – Facebook page: https://www.facebook.com/TheSuicideTheoryFilm
Please RSVP to cover arrivals at the world premiere on Wednesday, June 4 at 6:30pm david@robersonpr.com
Arrivals at 6:30pm -- Screening starts at 7:15pm
Interviews available in person during festival and phone interviews available now.
Contact: David Roberson david@robersonpr.com cell 310-925-8786