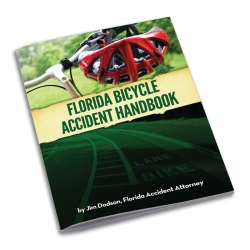 Clearwater, FL, June 09, 2014 --(
PR.com
)-- Clearwater attorney and bicycle safety advocate, Jim Dodson has authored a new resource to help Florida cyclists. The Florida Bicycle Accident Handbook helps cycling accident victims and their families understand the legal process when they have been seriously injured by a careless driver or a loved one has died.
Florida is one of the most dangerous states in the country to ride a bike. In 2012, 116 cyclists died in crashes and more than 6,000 were injured statewide. The National Highway Traffic Safety Administration (NHTSA) reports 677 cyclists were killed and 48,000 more were injured in motor vehicle accidents in 2011.
"I am deeply committed to preventing needless injuries and deaths. Drivers must be held accountable when their negligent and irresponsible behavior on the road harms a cyclist, who has the same right to the road as a driver of a motor vehicle," said Dodson. "Over the years, I have learned a great deal about how bicycle accidents occur and how to prevent them."
In the Florida Bicycle Accident Handbook, Dodson covers important safety issues such as how accidents happen; how medical bills can be paid after a crash; 8 steps for a cyclist to take after an accident and how uninsured motorist insurance protects cyclists and is critically important for every cyclist to carry on their own auto policy. Dodson also shares insights into why hiring an experienced attorney may be in an accident victim's best interest.
"I've learned many victims of cycling crashes have no idea where to turn. Most have only a limited understanding of how the legal system works and the tactics the insurance companies use to try and deny a claim. My handbook provides straight forward information on what to do if the unexpected happens and guides families through a critical time in their lives."
The Florida Bicycle Accident Handbook is available both in hardcopy and as an e-book at
FloridaAccidentBooks.com
. As a public service to citizens in Florida, Mr. Dodson will provide a free copy of the guide to Florida cyclists and their families. Visit www.jimdodsonlaw.com for more information.