Rock Out the Sizzling Summer with Huge Savings at Audio4fun
As summer is always the best time to celebrate, Audio4fun is blowing everyone out with a huge offer of 50% Off the advanced multimedia player and a surprising free gift. Are you ready to join this endless summer?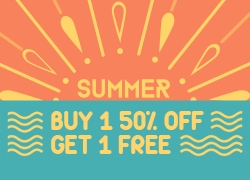 New York, NY, June 06, 2014 --(
PR.com
)-- Throw away those hectic schedules, crazy textbooks and heavy workloads; this is perfect time for interesting plans and fantastic journeys. In order to effectively plan out summer activities, we all need useful "assistants" for all entertainment purposes, such as AV Media Player Morpher PLUS and AV Voice Changer Software Diamond. This summer, everyone will have a chance to easily grab both tools once joining the "Buy one at 50% OFF, get one FREE" program at Audio4fun. More information can be found at
http://www.audio4fun.com/promotion.htm
.
"Everyone loves fun. Everyone's been waiting for this season of the year to relax and entertain to the max. However, we believe it is far better if we can entertain, relax and enjoy ourselves in a way that nobody has ever tried before," said Peter Nguyen, COO of Audio4fun, "Our newly upgraded software programs are unique for maximizing this sizzling summer's fun and will keep users on their creative highway. We hope that this promotion will bring these professional products much closer to our users."
AV Media Player Morpher PLUS is an all-in-one multimedia player offering 8 regularly updated audio/video tools on a brilliant, Smartphone-like interface. With this program in hand, customers can easily take full advantage of a mammoth library of 600 audio effects and presets, with many fabulous, customizable built-in effects, including Pseudo Surround, Multiband Dynamics, Amplitude Morpher, and so much more.
By joining Audio4fun's Summer Sale, customers can not only grab AV Media Player Morpher at 50% OFF regular price, but also receive AV Voice Changer Diamond, the top-of-the-line in voice mastering software. This program is suitable for overdubbing films, doing impressions of others, and most all other voice-related tasks and supports all of this in a high-quality sound environment. "Any project requiring morphing, creating, editing, and sharing audio/video is no longer an impossible mission thanks to AV Media Player Morpher PLUS and AV Voice Changer Software Diamond," said Chris R.F, Quality Administration Manager, "We believe that the functional combination of these software programs will turn your PC into a home multimedia center that can produce the most natural, unique masterpieces for a truly endless summer."
This huge Summer Sale at Audio4fun is valid from the 5th through the 17th of June, 2014. Take this chance to experience the power of technology and enjoy a fantastic, fun summer time. Visit http://www.audio4fun.com for more information about all of our software programs.
Contact
AVSoft Corp.
Tracy Nguyen
+84-8-6290-9985
http://www.audio4fun.com
232/17 Vo Thi Sau Str., Ward 7, Dist. 3 Ho Chi Minh City, Viet Nam

Contact