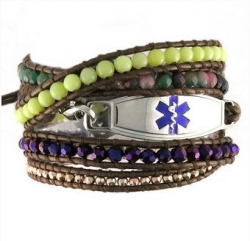 Incline Village, NV, June 10, 2014 --(
PR.com
)-- N-Style ID, a leading manufacturer of medical jewelry, today announced the addition of
custom jewelry engraving
to their services at no extra cost to consumers. Now, N-Style ID customers will be able to have their medical jewelry – including all bracelets, necklaces, charms, and ID tags – uniquely engraved to their specifications, and all at no extra cost to them.
"We're absolutely thrilled to offer free engravings on all of our high quality pieces," said N-Style ID President & founder Toni Bissell. "We know customers have a variety of options when it comes to medical jewelry suppliers. With the addition of no cost engravings, we will continue to lead the field in providing the best fashion-conscious medical jewelry, just as we've done for the last 14 years."
The company uses a state of the art laser engraver for inscriptions on the back of all non-precious metal ID pieces, as well as a rotary engraver on all Gold ID's. N-Style ID also reminds all customers that the information submitted to be engraved on their jewelry piece could end up saving their lives. To that end, the company has posted a list of helpful tips and information on its web site in an effort to better educate customers on how much and what kinds of information to include on their chosen piece(s) of medical jewelry. The information posted includes such tips as what kind of specific medical information to include on a customer's piece, as well as helpful abbreviation keys for more complex medical conditions, procedures, and medications.
"Our goal with each piece of medical jewelry we offer is that they are not only as fashion conscious as possible, but that they provide the most reliable medical information possible," says Bissell. "And now that we're able to offer engravings at no extra cost to customers, we're able to provide even more people with the best medical jewelry on the market. Of course, we also recommend asking your physician what to engrave as they know your particular medical condition best."
About N-Style ID
N-Style ID was created out of a mother's love. Founded in 2000, Toni Bissell wanted to create a medical bracelet her fashion-cautious daughter could wear. N-Style ID now features medical ID bracelets for women, children and men. The company features a variety of designs that include beaded bracelets, charm bracelets, leather bracelets and sports bands. N-Style ID goes beyond just providing beautiful jewelry; they also are an informational hub for those who have severe allergies, diabetes, epilepsy or lymphedema. For more information please visit; http://www.n-styleid.com or call 877-445-0030.