Cerakote Gen II Coatings: Reduced Weapons Visual-IR Signature Detection
Cerakote Gen II Coatings: Reduced Weapons Visual-IR Signature Detection Full Technical Report.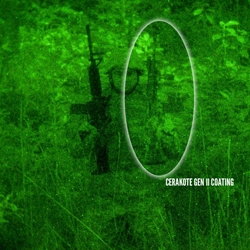 White City, OR, June 11, 2014 --(
PR.com
)-- Introduction:
Advancements in camouflage and signature management technologies significantly improve soldier survivability and combat strengths. Signature management technology employed in combat uniforms have shown to substantially reduce detection by enemy combatants in both day and night operations. While significant improvements have been made to help the warfighter avoid detection, little has been done to reduce the non-firing signatures of individual and crews-served weapon systems, accessories and mounts.
Traditional flat, black surface treatments such as phosphate, anodize, black oxide, and other processes in use today offer no visual, near-infrared, or thermal signature management capability. The lack of these important capabilities leaves warfighters vulnerable to detection – placing them at risk during day and night combat operations.
Technology Offering:
Recognizing the need to improve weapon system signature management capabilities, NIC Industries, Inc. leveraged its proven civilian Commercial Off-The-Shelf (COTS) ceramic-based firearm and high temperature coatings (marketed as Cerakote™ Firearm Coatings and Cerakote™ High Temperature Coatings respectively) and developed a second generation material, now known as Cerakote™ Gen II. This next generation coating was developed specifically for military small arms, crew-served weapons, and other metallic and non-metallic applications, where a need for the ability to manage the visual and near-infrared signature while enhancing durability, reliability and maintainability would be desired.
In addition to the signature management capability, Cerakote™ Gen II offers superior wear, chemical and corrosion resistance for any of the wide variety of adverse environmental conditions likely to be encountered in theaters of operation. An added feature of Cerakote™ is the ability to be applied to a variety of substrates. This unique feature allows the coating to be applied to legacy and newly manufactured weapon systems, as well as accessories and mounts manufactured from a variety of metallic and non-metallic substrates.
Visual Daytime Signature:
The Cerakote™ Gen II family of coatings offers the user visual signature camouflage that can be manufactured to custom color standards (such as Federal Standard, Pantone, etc.). For operations conducted during normal daylight hours, signature management is accomplished through the application of an unlimited array of camouflage colors and patterns.
Infrared Non-Visible Signature Management:
Most weapon systems in use today do not employ non-firing signature management technology. Consequently, soldiers are vulnerable to detection, particularly during combat operations conducted at night. A comparison of two different weapon systems is shown in the included photograph.
When viewed through night vision scopes the Cerakote™ Gen II coated weapons (held in the soldier's left hand in the sample photo), mimics the near-Infrared (N-IR) reflectivity of the natural background environment and the soldier's BDU which already employees N-IR signature management technology. The weapon with the standard surface treatment (held in the soldier's right hand) does not provide this capability.
For night operations, weapon signature management is accomplished by the N-IR reflective characteristics engineered only for the Cerakote™ Gen II using proprietary chemistries. Cerakote™ Gen II coatings are designed to conform to the N-IR reflectivity standards outlined in United States Military Specification MIL-C-53039D1.
MIL-C-53039D1 defines N-IR as operating in the 700-1400 nanometer wavelengths. It establishes the upper and lower limit parameters for various backgrounds, such as "Dark Green", "Tan 686", "Black", "Earth Yellow" or "Sand".
NIC Industries also offers the ability to match other N-IR requirements established by foreign countries. For example, Cerakote™ manufactures two brown coatings engineered to meet the specifications set forth by the Australian Defense Force as outlined in the Australian Defense Standard DEF(AUST) 87462.
DEF(AUST) 87462 defines N-IR as operating in the 750-1200 nanometer wavelengths. It establishes the upper and lower limit parameters for the "Khaki" background as 55 +/- 5%.
Tailored N-IR reflectance enables the coated object to blend in well with the specific background environments both during the day and at night, when IR detection equipment is employed. The N-IR signature of Cerakote™ can also be custom matched to the operator's environment.
Surface Protection:
When compared to traditional surface treatments such as chrome plating, phosphate, anodizing, black oxide, bluing, Parkerizing, and others, Cerakote™ shows enhanced performance characteristics in the areas of hardness, corrosion protection, lubricity, impact resistance, adhesion, abrasion resistance and flexibility. Cerakote™ withstands up to 3,000 hours of continuous exposure to 5% salt spray. Traditional surface treatments typically fail near 96 hours of salt spray exposure.
Cerakote™ coatings are wear resistant and have been shown through ASTM testing to be able to withstand 6,697 Taber Abrasion test cycles for each 0.001 inch of applied thickness.
The Cerakote™ family of coatings are flexible, and adhere well to ferrous and non-ferrous metals, as well as other non-metal substrates. This material can also be used as a dry-film lubricant by decreasing the coefficient of friction by up to 80% when compared to metal-on-metal interactions.
Cerakote™ also offers an environmentally-friendly application process that will eliminate the dangerous use of hazardous chemical surface treatments processes typically used for corrosion protection. These properties result in decreased system wear and increased service life for the weapon.
Summary and Conclusion:
By managing the weapon system's non-firing visual signature to avoid detection, CerakoteTM Gen II's innovative next generation signature management will increase soldier survivability and combat strengths in both night and day operations. In addition, Cerakote™ Gen II's enhanced surface protection performances can provide weapons systems an extended service life and lower maintenance costs. View and download the full report at
www.Cerakote.com or by clicking here
.
Sources:
1) Military Specification MIL-C-53039D "Coating, Aliphatic Polyurethane, Single Component, Chemical Agent Resistant". U.S. Army and Department of Defense. 24 January 2011.
2) Australian Defense Standard DEF(AUST) 8746 "Print Design, Disruptive Pattern Standard". Australian Defense Force. 31 January 2012.
Contact
NIC Industries, Inc.
Rob Griffin
866-774-7628
www.nicindustries.com

Contact