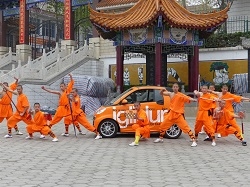 Singapore, Singapore, June 16, 2014 --(
PR.com
)-- In collaboration with the University of Applied Sciences in Cologne, igus GmbH has sent a compact car on a world tour to mark the occasion of the 30th birthday of its iglidur material and the company's 50th anniversary. 16,000 km have already been covered during the last five months through India, China, Korea, and Taiwan. Thousands more are scheduled for Japan, Brazil, and the United States until the team returns to the factory grounds in Cologne-Porz together with the Bonn-based political scientist and sociologist Sascha Laufenberg on 15 October 2014, just in time for the company's 50th anniversary. The car will then start on its European tour to visit customers, trade fairs, and events in its home market, demonstrating what plastic plain bearings are already capable of today.
Motion plastics – iglidur mass production materials for the automobile industry
Decades of research and development, in the industry's largest test lab for plastic components for motion control applications - e.g. "motion plastics" - has resulted in the mass production of 45 different, reliable iglidur materials, of which are already used as plain bearings by the automobile industry more than 200 million times annually. Every second plain bearing made by igus is assembled in automobiles. The self-lubricating plastic blends are characterised by minimum friction and wear, are also corrosion and maintenance-free, and therefore have a particularly long service life. Since external lubrication with oil and grease can be avoided, the bearings do not contaminate and also protect the environment. The plain bearings are injection moulded and due to this are able to be flexibly adapted to any bearing location. Even for iglidur on tour, customised solutions needed to be partially developed on the computer and manufactured from bar stock on a total of 56 bearing locations within a compact car where metal bearings were replaced by tribologically optimised plastic bearings. Ranging from the brake pedal, to windshield wipers, window cranks, parking brake, seat console, starter generator, to the choke valve - high-performance plastics were installed in all of these and are currently demonstrating vividly the varied applications, durability, and service life of iglidur on Asia's roads and its demanding climate.
Asia as test track for modern plain bearing technology
In spite of all the wear and tear, the car with its innovative plastics technology has until now managed to hold up under all stress. The reduction in weight, noise, and production costs facilitated by plastics in comparison to metal bearings has by no means impaired the performance capabilities of the vehicle. "On the contrary," Lautenberg emphasises. "We tackled all trips through deserts, mountain passes, rainforests, and the chaotic traffic of Asia's megacities - at times at temperatures far in excess of 30° and in extreme humidity." The routes have proven to be a challenge for car and driver alike. We covered roughly 5,000 km through India and China respectively, and more than 3,000 km each through Taiwan and Korea. The car is currently scheduled to travel in Japan from Tokyo to Mount Fuji. To date, the trip not only included Asia's tourist attractions, but primarily stopped over at igus branch offices and customers. But the iglidur roadshow also gave numerous trade fair visitors an opportunity to gain a first-hand impression of the performance capabilities of the car and the installed plastic plain bearings. For the time being, the world tour field test has been a success. The tour will be continued shortly at the World Cup host Brazil. The iglidur on tour team is then scheduled to cross South and North America, with Alaska as the starting point in the United States presenting a particularly demanding challenge.
iglidur on tour connects people
Every kilometre the car travels during the tour, will be converted into a donation towards a charitable organisation within the corresponding country. In India for instance, igus India is supporting the "make a difference" volunteer network dedicated to helping street children. In the Korean village of Incheon, three tonnes of rice were distributed to public soup kitchens for people in need. A detailed impression of the world tour can be seen at blog.igus.de/iglidurontour, with interesting images, videos, and reports. All routes and stop-overs, including trade fairs and customer visits can be directly followed and commented.