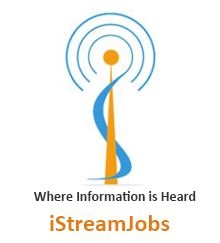 Sterling, VA, June 15, 2014 --(
PR.com
)-- The founders of iStreamJobs know it is hard to keep up with the newest employment opportunities out there. Jobseekers catch fleeting glimpses of the latest email or RSS feed with a few jobs listed out, but there is just not enough time to sit down and read through them.
Now, iStreamJobs has taken that burden off of Jobseekers' backs. They are pleased to announce the release of its job summaries audio streaming and playlist service. Jobseekers can only dream of subscribing to a playlist that aggregates the kinds of jobs you are looking for in your region. Now, the dream has become a reality. This remarkable service is now available at iStreamJobs via a free audio streaming app on iOS and Android platform.
Under development for the last year, iStreamJobs is a start-up in Sterling, Virginia and has created an app that streams audio summaries of job opportunities across the US. Working directly with hiring managers and recruiters, iStreamJobs edits a company's existing vacancy announcements down into short summaries of key information. A dedicated group of tech specialists then record these summaries as audio files with live human voices and organize them into regional streaming radio stations and downloadable playlists. If user wants more information, the iStreamJobs intuitive application sends the full details of the jobs to read and to listen.
iStreamJobs is a tremendous bargain for companies. As the latest recruiting research shows that companies get most of their new hires from referrals and their own company job webpage, it is very difficult for jobseekers to obtain a universal forum in which all of their preferred jobs are listed. iStreamJobs provides a novel method for accomplishing this. Its connections to social media enable jobseekers to share vacancy summaries or link directly to a company's jobs page. Jobseekers also benefit, with the ability to build custom playlists.
iStreamJobs CEO Suresh Chari is pleased with the company's performance. He states, "Our technical teams, editorial staff, and voice talent have really worked hard to get us ready for this launch. We are eager to see how the service helps people. In fact, our initial focus is on regions with high unemployment. We have a duty to help get people back to work."
iStreamJobs has plans to open in other countries. For now, it is focused on ensuring its service works well across Android and iOS in the United States and keeping the job summaries fresh. For more information on iStreamJobs contact info@istreamjobs.com or visit www.istreamjobs.com.
For advertising opportunities, contact sales@istreamjobs.com.