Alicanto's Automated SMB Marketing Tool Forges Alliances; Joint Marketing Campaigns Help Business Owners Attract More Customers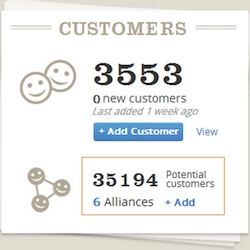 Palo Alto, CA, June 17, 2014 --(
PR.com
)-- Alicanto, an automated online marketing tool, helps small-to-medium-sized businesses (SMBs) join forces with nearby merchants to produce professional joint marketing campaigns. The unique marketing tool is designed to assist merchants in pooling resources and teaming up to produce highly targeted marketing campaigns that can attract new business and increase revenue.
"Joint marketing is just one of the great SMB tools that Alicanto offers," says Sharon Segev, Alicanto's CEO and Co-Founder. "Imagine how great it would be if you could easily invite other merchants in your area for a group marketing campaign to increase foot traffic. Now, let's say you're a local swimsuit store and you want to run a '4th of July' promotion. Nearby happens to be a party supply store, a bakery, and a convenience store. With Alicanto, you can send an invite online to the other three merchants to join you in a group '4th of July' promotion that can target all your combined customers. The campaign can be created within minutes at Alicanto.com and automatically sent out. Customer lists are never shared, so each retailer never sees their partners' customers. And once the campaign runs, all customers will receive each individual offer from all the companies at once in the form of a postcard, text message, or email. And by pooling resources and sharing customer lists, every cooperating merchant will benefit from increased business."
How Alicanto Works
Merchants simply register for free at Alicanto.com to set up an account. After inputting their clients' basic data (name, phone number, email address, and physical address), retailers can instantly create marketing campaigns to promote new products, send birthday promotions, nurture clients, form group campaigns, and attract customers for special events. Alicanto has easy-to-use online templates to speed up the production process and it allows customers to conveniently upload their own graphics to spice-up their promotions. Once the campaign has been devised, merchants select the customers to send the campaign to, the date of the campaign, and the method of delivery: text, email, or physical postcard. After the "send" button has been pressed, Alicanto's secure online system does the rest by delivering the promotions automatically.
Alicanto allows SMBs to create professional marketing campaigns quickly and easily at the push of a button. By offering a variety of streamlined marketing options, Alicanto assists merchants in building awareness and reducing the time it takes to market a product or service. With Alicanto's social media integration, retailers can save time by automatically sending updates and promotions directly to Twitter and Facebook. In addition, merchants can monitor the success of each individual campaign, send targeted campaigns out to loyal customers, generate Google address maps, and effortlessly manage customer lists.
"Alicanto has been designed to be a virtual marketing assistant that is easy to use and a huge time saver," says Noam Gordon, Alicanto's Chief Marketing Officer. "You can use it to send direct mail postcards, automatically post tweets, develop targeted marketing campaigns in a few clicks, monitor existing campaigns, and join forces with local businesses. The actual results are SMBs have more time to run their businesses and spend much less time on marketing. Yet by using Alicanto, merchants can quickly create professional marketing campaigns, produce more repeat business, retain customers, and dramatically grow their businesses."
"Chambers of Commerce, clubs, gilds, and associations across the board have been craving the tools that Alicanto delivers for years, but have lacked the technological skills to create it on their own," said Mr. Segev. "We have finally developed a solid, worthwhile system that helps smaller organizations compete with the bigger players. One of Alicanto's many useful tools is its automated direct mail feature that allows businesses to send promotional postcards directly to customers. Our secure cloud-based service prints postcards on-demand so there is no inventory and no post office to deal with. Simply create the postcard online at Alicanto.com, decide who and when to send it to and boom! We will automatically print and have your cards delivered when and where you want them. That alone is a massive time saver for small businesses and truly levels the playing field!"
Alicanto has been expanding its customer base by partnering with companies that offer tools to help SMBs attract new business. Currently, over 100,000 merchants have access to Alicanto on Shopify® alone. Whether using Alicanto inside enterprise applications like SalesForce® and QuickBooks®, with retail point-of-sales (POS) systems, online at Alicanto.com, or via Alicanto's smartphone app; retailers have various ways to access Alicanto and can now more easily send promotional messages to build awareness and ultimately increase revenue.
Based in Palo Alto, Alicanto has spent the last three years helping Northern California businesses create targeted marketing campaigns and has been expanding nationally as well as overseas. Alicanto's U.S. and international clients include fashion boutiques like Ruti and Jigsaw London, multinational telecom SingTel, and Canada's Glacier Media Group. For more information, please visit Alicanto.com or the company's YouTube channel.
About Alicanto
Alicanto is an online service that delivers automated print and digital marketing promotions for small-to-medium sized businesses. Its Cloud-based birthday marketing system is fully automated, highly secure, and compliant with the Children's Online Privacy Protection Act (COPPA). The privately held company is headquartered in Palo Alto, California and has an R&D office in Tel Aviv, Israel. Alicanto was founded in 2011 by a team of veteran entrepreneurs with deep experience bridging technology and marketing. Alicanto's emphasis on data security was instilled by the company's founding investor, Shlomo Kramer, a respected Israeli network security leader and enterprise visionary. Mr. Kramer is the co-founder of Check Point Software Technologies, Palo Alto Networks, and Imperva. In addition to Alicanto, he is an angel investor in a number of enterprise software companies.
Intro video is here: https://www.youtube.com/watch?v=DseueKsepOk&list=PL437578367BE8D748
Alicanto is a trademark of Alicanto, Inc., all rights reserved. Facebook, Google, QuickBooks, SalesForce, Shopify, Twitter, and YouTube are registered trademarks of their respective companies.
Alicanto
2102 Old Pagemill Rd Palo Alto, CA 94304
Mr. Noam Gordon
CMO & Co-Founder
Alicanto
Tel: +1 (800) 600-4097
E-mail: noam@alicanto.com
Website: http://www.alicanto.com
Contact
Alicanto
Noam Gordon
1 (800) 600-409
alicanto.com
https://www.youtube.com/watch?v=DseueKsepOk&list=PL437578367BE8D748

Contact