Dr. Dental Sponsors the "Hole in the Wall Gang Camp" Run
New England dental group, Dr. Dental, sponsors a non-profit event for the "Hole in the Wall Gang Camp" - a camp for sick children, started by Paul Newman.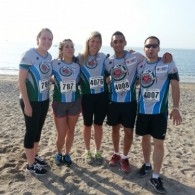 Fairfield, CT, June 18, 2014 --(
PR.com
)--
Dr. Dental
employees and their friends and family are invited to run again with Team Hole in the Wall to support the Hole in the Wall Gang Camp, a summer camp started in 1988 by veteran actor, Paul Newman. The camp is a place where seriously sick kids can get out of their hospital rooms to hike, fish and make new friends. Laughter and energy provide a tremendous breeding ground for healing.
Please support their goal to raise $2000 this year, more than enough to fund one camper's summer experience. Last year, the Dr. Dental team raised $1750 through the kind-hearted donations of their offices, employees and their friends and family. Come run (or lightly jog, or walk) with them in the 5k race on Saturday, June 21 or the half marathon on Sunday, June 22 in Fairfield, CT. If you are interested in running, please email them directly at info@teamholeinthewall.org and they will send you the instructions on how to join the team online.
Children receive 24-hour medical care. Attendance at the camp is free of charge. There are no activities that cannot be enjoyed by every child. This includes kids who have leukemia, a brain tumor, or even kids with only one leg. Because of generous donors, the camp has helped over 100,000 children in 30 countries.
Movie buffs will recognize the Hole in the Wall gang from "Butch Cassidy and the Sundance Kid." There was a pass in Wyoming known as the Hole in the Wall where outlaws would hide out. After all, as founder Paul Newman says himself, this is a place where "kids can just be kids and raise a little hell!"
Next year, the camp will welcome 16,000 seriously sick children from around the world. That's a whole lot of fun and a whole lot of healing.
If running is not your thing, then why not make a donation on their crowdrise page and help them reach their 2014 goal. Any little bit helps. Please take a minute to watch this video to learn more about the camp. So many of us are parents and all of us were once children who had an awesome time at summer camp, so please take a moment to watch and give if you can.
Thanks for your support.
About Dr. Dental:
A family company, Dr. Dental opened its first office in Massachusetts in 2004. Its mission was to make it as easy as possible for families to access the care they needed in a friendly and comfortable environment. Today, Dr. Dental has several convenient locations in Connecticut, Massachusetts, New Hampshire, New Jersey and Rhode Island.
Contact
Dr. Dental
Arthur Revechkis
877-776-9833
www.mydrdental.com

Contact