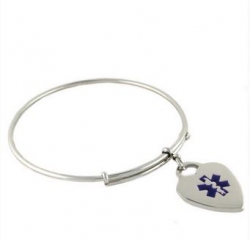 Incline Village, NV, June 25, 2014 --(
PR.com
)-- N-Style ID, a leading manufacturer of medical jewelry, today announced the addition of a new
medical bangle charm bracelet
to their growing line of jewelry for medical patients -- along with necklaces, charms, ID tags, and other accessories for men, women, kids and teens. The company began stocking and selling the new bracelets starting at $39, and includes a unique engraving on each charm bracelet at no extra cost to customers.
"We are absolutely thrilled to be able to add such high quality medical bangle charm bracelets to our jewelry product line," said Toni Bissell, N-Style ID's president and founder. "We know that our customers have a pretty wide variety of options available to them when they are out shopping for medical jewelry. With the new addition of products like this medical bangle charm bracelet to our line, we hope to continue leading the field in providing the best fashion-conscious medical jewelry, just as we've done for the past 14 years."
The company promises a more modern alternative to typical medical charm bracelets consumers might find elsewhere. A company spokesperson noted, "This is the perfect bracelet for anyone -- particularly teens and young women -- to showcase their own unique styles and charms." N-Style ID offers each customer the ability to choose from a number of different medical charm colors based on their personal tastes to include on their bracelets. Customers can also choose from a variety of related charms and products from N-Style if they choose.
"It's always been our goal at N-Style ID to offer medical jewelry that is not only fashion conscious, but also provides the most reliable medical information they can," stated Bissell. "With products like this new medical charm bracelet and others in our line, we're able to reach even more people in need and provide the best possible medical jewelry on the market."
About N-Style ID
N-Style ID
was created out of a mother's love. Founded in 2000, Toni Bissell wanted to create a medical bracelet her fashion-cautious daughter could wear. N-Style ID now features medical ID bracelets for women, children and men. The company features a variety of designs that include beaded bracelets, charm bracelets, lockets, leather bracelets and sports bands. N-Style ID goes beyond just providing beautiful jewelry; they also are an informational hub for those who have severe allergies, diabetes, epilepsy or lymphedema. For more information please visit; http://www.n-styleid.com or call 877-445-0030.