MyHomeAssets! Software Receives Mortgage Industry 1003 PA Certification
MyHomeAssets! Software Receives Mortgage Industry 1003 PA Certification Software is First to Obtain Certification from the 1003PA Standards Alliance for Producing Standard Mortgage Lending Reports and Files.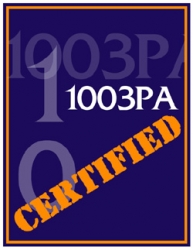 Bend, OR, October 19, 2007 --(
PR.com
)-- MyHomeAssets! Software announced today their software is the first to gain 1003 PA certification for producing standard personal asset reports and files for mortgage lenders. In the wake of the mortgage lending meltdown caused by bad subprime, Alt-A, and jumbo loan lending practices, the 1003 PA Standards Alliance certified MyHomeAssets! software after extensive evaluation to ensure the program produced documentation in the proper format.
"It is absolutely essential that borrowers document their personal assets if they plan to get a home loan in today's market," says Mike Grigsby, CEO of MyHomeAssets! Software. He adds, "mortgage lenders no longer have the luxury of ignoring personal wealth, and shareholders now demand firms tighten their lending standards."
Mortgage lenders are turning to better documentation standards in response to shareholder scrutiny of industry lending practices, some sending out mandates to include supporting documentation with 1003 loan applications.
MyHomeAssets! software provides borrowers with an easy to use system to catalog their personal assets. Users of the software inventory their home assets, entering make, model, serial number and value into the MyHomeAssets! database. Numerous reports can be printed from the program, including a tool to print the standard 1003 PA form that can be signed and submitted as backup documentation to the 1003 home loan application form. Alternatively, the same information can be outputted to a 1003 PA file that can be uploaded to a mortgage lender's site. Both the 1003 PA form and file produced by the MyHomeAssets! Software are certified by the 1003 PA Standards Alliance as conforming to a common standard used by the industry.
"There are enormous advantages to having our software certified by this organization," says Grigsby. "It ensures that the form produced by our software, and detailing assets that comprise the total personal asset value on the 1003 loan application, is compatible with the rest of the mortgage lending industry."
Home loan firms may require either a signed copy of the 1003 PA form, produced by MyHomeAssets! Software, or a standard text file exported by the program. Grigsby says the certified file produced by the software can be read and imported by any mortgage lender's website, also conforming to the 1003 PA Alliance Group standard.
"Certification of MyHomeAssets! Software took about three months," according to Grigsby. "The advantage of certification is that the software helps to ensure the entire mortgage industry is producing files able to talk with other applications, while helping mortgage lenders by allowing borrowers to verify their personal assets."
This verification is a powerful tool in helping mortgage lenders answer shareholder demand for more accountability in their lending, and providing better tools for the future.
Valerie Hall, a spokesperson for the 1003 PA Standards Alliance, says the organization is a watchdog group formed last year in response to mounting economic pressures and awareness of the need for more responsible mortgage lending practices. "MyHomeAssets software is the first to receive certification from our group," added Hall. Certification comes only after a software company or mortgage lender submits their forms or files for extensive scrutiny to ensure they comply with the groups specifications.
MyHomeAssets! software is currently available as a download or CD ROM with custom packaging, built for the Windows operating system, though sales are most often through bulk licensing by larger mortgage and insurance companies.
About MyHomeAssets! Software
MyHomeAssets! Software is a 15 Development Group company providing personal asset cataloging and reporting solutions primarily to consumers through the mortgage lending and insurance markets. The software helps companies retain customers, grow their portfolios, and foster better relationships. MyHomeAssets! Software is located in Bend, Oregon. www.myhomeassets.com. 866-439-9125.
###
Contact
MyHomeAssets! Software
Jason Williams
(503) 419-6286
myhomeassets.com

Contact