dE ROSAIRO Introduces Summer Capsule Collection in Response to Growing Consumer Demand
Fast-Rising Contemporary Womenswear Brand Hosts Launch Events in New York, Seattle, and San Francisco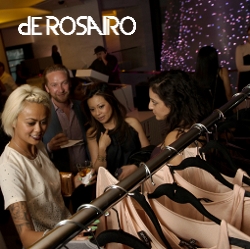 Los Angeles, CA, July 02, 2014 --(
PR.com
)-- Contemporary womenswear brand dE ROSAIRO successfully introduced a Summer Capsule Collection at exclusive, invitation-only launch events in Seattle, New York, and San Francisco, in response to an avalanche of requests and inquiries to pre-purchase the debut Fall/Winter collection ahead of time. The nearly-sold-out Summer Capsule Collection featured five styles from the Fall/Winter collection, produced in limited-edition colors and quantities, for each of the launch events.
Ex-Silicon Valley business player turned fashion brand CEO, Nishika de Rosairo, launched her debut collection in February 2014, at the industry's largest trade shows in New York and Las Vegas, and has since created significant demand for her designs in the professional segment of womenswear market, whose target consumers incorporate style, design, and luxury as part of their everyday lifestyle.
The launch events allowed consumers to connect with the dE ROSAIRO brand, to experience the quality of the fabrics, the unique details, and versatility of the styles. The nearly 300 guests who attended the events, including local media and fashion influencers, loved the combination of soft-hand knit fabrics from Los Angeles and the expert fit and construction mastered in New York.
The W Hotel played a key role in sponsoring both the Seattle and San Francisco trunk shows. The Erno Laszlo Institute, whose exclusive members-only clientele includes Marilyn Monroe, Grace Kelly, Katharine Hepburn, and top Hollywood celebrities, was the venue of choice for the New York event. The luxurious, intimate settings and relaxed atmosphere of these venues, combined with the champagne and artisan chocolates tasting, were designed to provide consumers with a stimulating, multi-sensory experience of the dE ROSAIRO brand that corresponds to its luxury image. "Partnerships with these high-end luxury venues is a perfect fit for the dE ROSAIRO brand for multiple reasons," says CEO and Creative Director, Nishika de Rosairo. "Not only are these the venues that our target consumer naturally gravitates towards, but affiliations like these are a true testament to the dE ROSAIRO brand in terms of what we stand for and how far we have come in just four months."
Nishika de Rosairo, present at these events, is inspired by the tremendous response and positive feedback to the brand. "Staying connected to the consumer and understanding what designs she is drawn to, what colors she prefers, and what sizes fit her the best, are all part of our strategy to continue to provide the consumer with what she wants," says de Rosairo. "Launch events and trunk shows, such as these three that we recently hosted, will always remain a key element of how we stay in touch with the consumer." Upcoming trunk shows have been slated for more cities and select venues throughout the U.S. in the coming months.
About dE ROSAIRO:
Inspired by the idea of everyday luxury, and focused on transcending the boundaries of womenswear, culture, and design, dE ROSAIRO offers modern, wearable separates known for their innate versatility, artistic sensibility and luxurious fabrics. Made in New York, each dE ROSAIRO piece has been carefully conceived to be worn in a formal or casual setting and as an elegant complement to one's work skirt, favorite boyfriend jean, or cocktail dress. For more information, visit www.dEROSAIRO.com.
Contact
Emblem
Eveline Morel
310.420.0125
www.dEROSAIRO.com

Contact