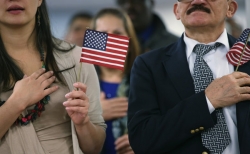 Brooklyn, NY, July 02, 2014 --(
PR.com
)-- On June 30, 2014 President Obama made a statement, saying that he has ordered the Secretary of Homeland Security to move resources from the "interior" to the "border." See http://www.politico.com/story/2014/06/immigration-reform-obama-108468.html.
According to Ms. Shautsova: "Essentially, what the President is saying is that the government is going to tighten security to make sure no one gets through Texas or Arizona into the US. A few weeks ago, Vice President Joe Biden, made an announcement to countries of Central America, basically stating, that while immigration reform will possibly help illegal immigrants who entered the country previously, the new laws will not apply to illegal immigrants who are planning to come into the US now. (See: http://www.latimes.com/nation/la-na-biden-immigrant-kids-20140617-story.html ) With the vast influx of children who are now attempting to cross the border, the government is trying to invent a solution that would be acceptable for those who would want to see those children safe in the US, and those who do not want to allow more 'illegals' in."
"However, the US Immigration laws are already providing some solutions for unaccompanied minors and children under 21, who can secure a guardian in the US and who can demonstrate that they were neglected or abandoned by one of the parents in their home country. For example, a child who can show that he or she was abused, neglected or abandoned by one of the parents and now has an order from the State Family court appointing a custodian or guardian for such a child, may file for Special Juvenile Immigration Status which, if approved, gives the child permanent resident status in the US. Such a child will not be able, however, to sponsor his biological parents," Shautsova says.
"One of the possible solutions that would help a great number of immigrants, would be an Administrative decision to lax the standard for hardship waivers and/or allow to adjust status for those who now have US citizen immediate relative but entered the country without inspection. Under the current laws, entrants without inspection, or EWIs, cannot receive permanent resident status due to a bar contained in Immigration and Nationality Act even if they are married to a US citizen," comments Shautsova.
Alena Shautsova is a principal at the Law Office of Alena Shautsova, a full service
Immigration Law Firm
helping non US citizens to overcome Immigration challenges. The author can be reached via http://www.shautsova.com and at 917-885-2261.