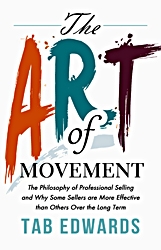 Philadelphia, PA, July 09, 2014 --(
PR.com
)-- The Water Group, through its subsidiary The Water Training Institute, has released a new book by Bestseller author Tab Edwards, one of the nation's foremost contributors to the field of professional selling and the author of eight books. This latest project is titled "The Art of Movement: The Philosophy of Professional Selling and Why Some Sellers are More Effective than Others over the Long Term" (TMBE Media / The Water Training Institute).
"The Art of Movement" discusses the practice of selling on a higher logical plane than does the usual "this is how to become a great seller" fare that dominates the field today. According to Edwards, "Selling is not magic and it shouldn't be made to appear overly-complicated. Fundamentally, selling is about first understanding and acknowledging that prospective buyers don't like dealing with salespeople (borne of 'buyer's remorse') and they are skeptical about making purchases. It is about the seller moving the buyer from this initial position toward a sense of openness and a willingness to take action; it is about this type of 'movement'."
Edwards argues that buyers—like anything else—"move" when a form of "force" is applied. Not "force" in the sense of a threat or demand, but "force" as in that which motivates or inspires one to move from an inert or position to activity based on the expectation of receiving something of valuable.
Most sellers are familiar with the fundamentals of selling, even if they have not mastered their use. However, even more sellers are unfamiliar with the philosophy of selling—why things happen the way they do; why some sellers are better than others; what is the nature of selling and what it means to "sell"? These topics and more are explored in the book, for the purpose of helping sellers understand what separates the great sellers from the merely good ones.