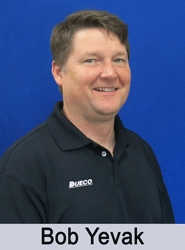 Waukesha, WI, July 16, 2014 --(
PR.com
)-- DUECO, Inc., the largest privately owned provider of Terex® Hi-Ranger bucket trucks, digger derricks and cranes in North America, has appointed Bob Yevak Territory Manager with responsibility to support DUECO customers in Eastern Pennsylvania, New Jersey, the 5 boroughs of New York City, and Long Island. Bob will be reporting to Jim Kraschinsky, VP of Sales.
Bob joins DUECO after serving as Commercial Region Manager for a global leader and manufacturer of commercial and industrial maintenance equipment and serving as Distributor Manager for a world leading manufacturer of cleaning equipment, among other sales roles.
Bob graduated from Pennsylvania State University in University Park, PA and lives in Easton, PA with his wife Kim.
DUECO, Inc. is a women-owned business and the largest independent provider of Terex bucket trucks, digger derricks and cranes for the utility market in the North America. Additionally, DUECO manufactures custom utility truck bodies; distributes mini derricks/aerial lifts, stringing equipment and trailers; and supplies tools and accessories for all truck brands. Family owned and operated since 1955, DUECO's philosophy of teamwork, integrity, and open communication with customers and employees ensures high quality equipment at the best value. With headquarters in the Metro Milwaukee area, DUECO services customers 24/7 in 17 states. To learn more, visit dueco.com or call 800-558-4004.