Shon Brooks "Star Cigar" Sets Chart Records - Smoke Magazine
Shon Brooks of Brooks Entertainment Inc. invents top rated S.O.B™Dominican cigar while in the mist of launching a new television channel with Cox Media. Shon Brooks, helped increase the highest NCAA Championship Nielsen Ratings after signing a ESPN Cox Media contract for March Madness. He is also one of the (IMDB) Internet Movie Database (SEO) search engine optimization traffic leaders and now becomes one of Smoke Magazine's top 36 cigar manufacturers in the world!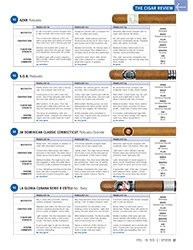 Long Island City, NY, July 16, 2014 --(
PR.com
)-- Lockwood Publications Inc. was incepted in 1872 and is the owner of Smoke Magazine. Their focus is on cigars and life's burning desires, featuring blind tasting reviews of premium cigars and interviews with cigar makers. The publication includes feature stories on cigar producing countries and cover story interviews on cigar-smoking celebrities. It brings news and trends in the cigar world, must-have gifts and accessories, cigar-friendly drinks and spirits, etiquette advice, cigar culture, history, and much more. Smoke Magazine has the cigar industry's most strict and critical cigar reviewers. The
S.O.B™
Robusto cigar wholly owned by Brooks Entertainment Inc. received an all-time high score of 95% from panelist number 3 and quantifies for an overall (A+) 90% grade curve and is now leading amongst the top 36 cigar manufacturers in the world. Shon Brooks and Brooks Entertainment Inc. invention is now eternally inducted into the Smoke Magazine volumes.
The S.O.B™ Robusto cigar was described by panelist 2 as being flawless, tan, smooth and silky, "Like a beautiful woman." Also, in
Smoke Magazine
(Volume 18, Number 2, on page 63) the S.O.B™ Robusto cigar was mentioned as being, "A good early day smoke to enjoy on the golf course." The flavor and strength was described as being mild and-medium and a bit spicy.
The hot S.O.B™ Dominican cigar brand's heritage is from Tabaqueria Carbonell CXA; it was founded in 1894 with more than 100 years of experience in the manufacturing of cigars. Brooks Entertainment Inc. discovered Jose Rivas in the Dominican Republic to help with the designs. This is the same area where Christopher Columbus once sailed in 1492. The brand successfully launched the S.O.B™cigar to the United States achieving a missile star rating which has now toppled the charts. The unprecedented task was accomplished the hard way by skipping over cigar trunk trade shows. Instead, relying on the hand rolled cigars' pure quality and the screaming (SEO) Rock Star fan base of Shon Brooks. This pioneering schematic is how the S.O.B™ cigar climbed the charts. While accomplishing this high rating the hard way, the brand took one hundred percent of the risk and receives all the reward.
Not only-but also being in a nation that demands proof of performance on the big stage and where numbers speak volumes which equates to dollars for corporate advertisers. This highly favorable S.O.B™ Star Cigar brand and its excellent ratings has had a positive impact on all the innovative brands of Brooks Entertainment Inc. Likewise, Brooks Financial & Entertainment Consultants ratings of their S.O.B television show campaign on Cox Media during the NCAA college championships helped in achieving the highest cable Nielsen ratings for March Maddness. http://tvbythenumbers.zap2it.com/2014/04/08/cable-top-25-ncaa-basketball-tops-cable-viewership-for-the-week-ending-april-6-2014/252262/
Cox Media with Brooks Entertainment Inc. plans on creating a 24/7 'On Demand' Television Network which appears to be closer than expected. News feed reports of the latest meetings between the two were reported on a Cox Media corporate metadata tag of #coxshowcase. Professedly, the corporate advertisers have not been revealed as of yet, however, the television production content for the 24/7 'On Demand' channel is already completed with never seen before footage. The
Brooks Financial & Entertainment Consultants Network
is expected to be included inside the Cox Gold Bundle With Contour TV which is in high definition.
As noted, Shon Brooks is a Time Warner - TV Editorial Excellence Award Winner for covering the Olympic Games, Game Changer by Invention Magazine, named Superhero by 'On Wall Street' Magazine and Financial Planning Magazine. Brooks Entertainment Inc. now emerges as a member of Smoke Magazine's Top 36 Cigar manufacturers in the world. As a golden rule, being one of the top in the world for manufacturing luxury premium cigars has driven up the market price of the S.O.B™ cigars, as well as the autographed collectors memorabilia merchandise for Shon Brooks. (Shon.TV)
The Hit-maker created both modern day United States history and Dominican Republic history at the same time from the recent S.O.B™ cigar invention. A bus load of fans in the Dominican Republic report, Shon Brooks, donated autographed copies of the Smoke Magazine and collectors memorabilia. It was donated in honor of this Dominican cigar history being made. Shon, tributes Rock & Roll in directing him into the entertainment industry. His first live on stage performance in grade school was at Bells Elementary, NJ. The rock band he assembled had diversity which included a female lead singer, a drummer boy, a male bass player and Shon Brooks on electric guitar. This musical performance introduced him to the entertainment industry which later lead to the creation of the hit S.O.B™ Dominican cigar. http://www.cigarlopedia.com/pages/GridPage.aspx?s=S.O.B%20cigar
When asking the inventor, Shon Brooks, about his thoughts of the S.O.B™ Cigar emerging to the top spot in the world with this extremely high rating, he says, "Making the grade is remarkable, and a magnificent world class achievement. It represents a shining beacon of hope for manufacturers. Especially, when only an exiguous number of cigars ever get rated. I would like to thank our Dominican global teammates and the Smoke Magazine review panelist for being a industry leader and having the courage to rate and rock our S.O.B™cigars. The Smoke Magazine review award will be used as motivation and encouragement for our team to continue making more blends."
"The S.O.B™ luxury cigar brand was created for the Vanquisher that plays the cards that has been dealt in life to win and not fold! It is vital that you remain ethical at all times even though others may bend the rules of life. Pressing on is when you begin to obtain Rock Star status!" (Says the company's mission statement)
For Media inquiries regarding Lockwood Publications Inc. or Smoke Magazine (volume 18) please contact Ted Hoyt at www.LockwoodPublications.com. Whereas, for a list of news stands and Smoke Magazine retailers to order the S.O.B cigars in your area please see attachment.
Contact
S.O.B Cigars
Paris Crosby (Retailer and Public Relations Calls Only)
619-575-0242
www.SOBcigars.com
S.O.B Cigar Authorized Retailer - Habana Club Cafe 858-231-6673 780 4th Ave
(between G St & F St)
San Diego, CA 92101
Neighborhood: Gaslamp

Contact
Multimedia
The S.O.B Star Cigar can be ordered from any of the attached list of Cigar retailers in your area nationally and internationally. This attachment is for consumer special ordering at a store near you.