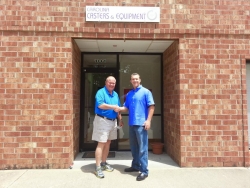 Greensboro, NC, July 17, 2014 --(
PR.com
)-- Greensboro-based Carolina
Material Handling
, Inc. (CMH), announced its acquisition of High Point-based Carolina Casters. The two privately held companies officially completed the sale June 15, 2014.
Founded in 1971 by John L. Middleton, Sr., CMH has grown from stocking a few hand-trucks and one salesperson to a complete dealership with over 5,000 material handling products in stock and 19 experienced material handling experts serving North Carolina, Georgia, South Carolina and Virginia. The company offers a wide range of material handling and storage solutions. The family-owned business is now run by John L. ("Mid") Middleton IV, president since 2003. With the acquisition of Carolina Casters, the company now offers an expanded line of casters.
"We intend to provide the same high-level service to the customers of Carolina Casters, and are excited about the wide variety of options we can now offer to our existing and new customers," explains Middleton. "We can now offer more options of casters because of the increased number of components for more material handling solutions. We have more choices in stock for immediate shipment, too."
This acquisition brings with it Carolina Casters founder Marty Wordell's decades of experience and methodology for selling casters, as that was the sole focus of Carolina Casters' business. "Marty is incredibly gracious in his sharing of knowledge of how best to run the caster side of the business," continues Middleton.
CMH has hired one person on a part-time basis to help handle the products from the acquisition. Middleton is quick to point out that the new employee, like so many others in the company, is a student. "We regularly hire students from area colleges on a part-time basis, and many of them roll over to full time upon graduation." A long-standing part of the Triad community, CMH looks toward the future with this acquisition, and what it might mean for the company's growth. "We're expecting this will give us a 25 percent increase in caster sales."
For more information about CMH or its acquisition, contact Alex Neely, Marketing Manager, at (336) 294-2346 or alex@cmh-inc.com. Visit the website at www.cmh-inc.com.
Editor's Note: A photo is available.
Caption: Carolina Casters founder Martin Wordell (left), congratulates Mid Middleton, President of Carolina Material Handling, Inc., on the acquisition of Carolina Casters.
Carolina Material Handling, Inc.
2209 Patterson Court
Greensboro, NC 27407
For further information, contact:
Alex Neely, CMH Marketing Manager
Office Phone: (336) 294-2346
alex@cmh-inc.com