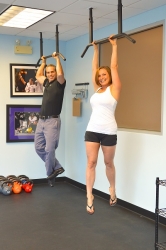 Columbia, MD, July 24, 2014 --(
PR.com
)-- Dr. Josh Bross, owner of Elite Chiropractic & Sport, has announced that the innovative progressive personal training system, Forever Strong, is now available at Elite Chiropractic & Sport in Columbia, MD. The public can get a preview of Forever Strong and meet the dynamic innovator at an open house on Saturday, September 6, Noon – 2 p.m.
"The Kelly Scott Forever Strong Fitness System aligns perfectly with many of the sports chiropractic and functional medicine techniques that we use in our practice to restore health and wellness. I see Forever Strong as a perfect complement to our practice and what we do. I embrace it wholeheartedly," Elite Chiropractic owner Dr. Josh Bross remarked.
Forever Strong, part of Kelly Scott's Forever Strong Fitness System, is a powerful strength-building, fat burning and muscle toning program proven to increase energy and endurance. Until now, it has only been available at its original location in Fulton, MD.
Designed as a restorative strength program that uses free weights, suspension training and bodyweight movements, the program boasts many health benefits including increased bone density, lower blood pressure, reduced risk of diabetes, heart disease, or stroke, suppressed appetite, higher metabolism and release of anti-aging hormones.
The Forever Strong personal training is unique in that it provides a customized program for each individual that is adapted as the trainee gets progressively stronger. Limited to 4 persons per trainer, each still gets plenty of one-on-one coaching to train safely and effectively.
With just two to three hours per week, Scott notes that her clients report a feeling of increased strength, more confidence and optimal well-being.
"Teaming up with Dr. Bross, a strong advocate for health and wellness in Howard County, was an obvious win-win as we both share a passion for helping others achieve better health," Scott adds.
The Columbia open house will be held at Elite Chiropractic, 6325 Woodside Court, Suite 225. For more information on Kelly Scott's Forever Strong Fitness System, go to www.fultonkettlebells.com