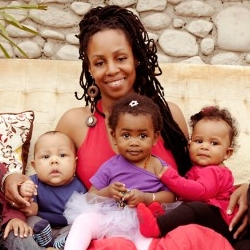 Los Angeles, CA, July 24, 2014 --(
PR.com
)-- Racha Tahani Lawler CPM, LM, a fourth generation midwife and the Clinical Director of The Community Birth Center, invites the public to attend the Grand Opening of The Center's new Mid-City location.
With over 1,000 births and 13 years as a licensed midwife, Racha is devoted to supporting out of hospital births for all women with low risk pregnancies who desire it - particularly low income mother's to be. She is equally dedicated to supporting a rise in better overall birth statistics for a population that currently has the worst statistics.
African Americans have the worst infant mortality and morbidity rates in this country. African American women also have a higher rate of C-section births than any other group. Racha's birth center is actively changing these statistics one family at a time.
TCBC is a warm, welcoming and all-inclusive alternative to the average birth center. Most birth centers are inaccessible both economically and culturally to a huge portion of LA's pregnant mothers. TCBC is owned and operated by a black woman fighting for the health of all women and their babies, regardless of their demographic details. There is a sliding scale payment structure available to those who qualify, because serving those who desire a midwife assisted birth who could otherwise not afford it is a primary goal.
Originally located in South Los Angeles (a few short blocks from Racha's own midwife grandmother's place) the practice has outgrown the space in only three short years. The vision has always been have a center located in a neighborhood where it would have the greatest impact and reach the most people, and although there were close ties to South LA, a more central location better increases the center's reach.
The new location is located in Mid-City. Formerly a day spa, the building is a perfect fit for the growing needs of the TCBC. In addition to the more central location, it is right next to two major hospitals, which is an important detail if medical support becomes needed during a patient's labor. The larger space provides individual, private birthing suites and private waiting rooms for their families. And there is large dedicated classroom for community education.
The Grand Opening is Saturday August 16th 3pm – 6pm, at 1645 S. La Cienega Blvd. Los Angeles, CA 90035, and everyone is invited. Gift bags goodies for pregnancy, birth and new mothers will be handed out to the first 50 pregnant attendees. The event is sponsored in part by Simply Wholesome, another black owned business committed to providing healthy alternatives to the community. Everyone is warmly invited to come tour the center, meet the celebrated midwife and her students, and talk to the countless families who have delivered at TCBC and hear their stories.