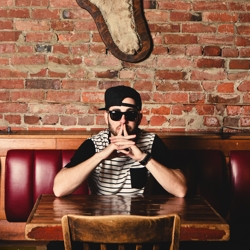 Seattle, WA, July 24, 2014 --(
PR.com
)-- If you're just hearing Phil Crown's name for the first time, you're in for something new and exciting. Phil has been doing everything from writing, recording, producing and performing from the Pacific Northwest all the way down to Miami and is garnering an especially large following in his hometown of Seattle. Now he's accomplished something even bigger by releasing his new music video, "Speed of Light" to YouTube.
www.youtube.com/watch
Phil's first track, "Take My Hand" was released last year to stellar reviews and a solid local buzz back home. With his newest track, he is making real waves in the pop/r&b world. He has recently sparked major label attention and is working closely with some of the music industry's great minds to create and promote his newest tracks. His story is starting to look seemingly close to that of other mainstream pop artists. We're watching Phil!
The video for Phil Crown's new pop inspired dance track was directed by Adam Leeman and Jon Jon Augustavo, the same team that shot Macklemore's international hit singles, "Thrift Shop" and "Can't Hold Us." Submerged in the cities most artistic area, Phil and his video vixen play an alluring game of hide and seek through the night in the city streets, restaurants and clubs. Running from the iconic Seattle Waterfront all the way up to the Capitol Hill district. This well thought out and creatively shot music video will have you guessing from the beginning love scene to the closing credits.
Phil's progression of artistic vision and development from the relaxed camerawork in "Take My Hand" to the more surreal, dramatic visuals seen in "Speed of Light" only seems to bring about more questions like, "who is Phil Crown, exactly?" and "where is he headed." However, one thing is for sure; if he continues down the path he is now, one can only imagine where he's going will be a long, long way from home.
Phil's new single can be found by Google searching or copying links to the following platforms:
YouTube : https://www.youtube.com/watch?v=jppxDTt6mHk
SoundCloud : https://www.soundcloud.com/philcrown/speed-of-light
iTunes : https://itunes.apple.com/us/album/speed-of-light/id895064351