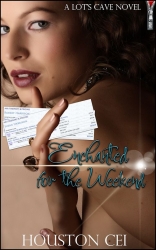 Santa Nella, CA, July 25, 2014 --(
PR.com
)-- "Enchanted for the Weekend" by Houston Cei has just been published by Lot's Cave a website that specializes in erotica. The story is dramatic with a mixture of joy, sorrow and suspense and even has a splash of witchcraft, along with bisexuality and incest. The book is not for everyone, but should be entertaining for those who enjoy reading graphic descriptions of sexual acts in the context of a meaningful storyline with characters that seem very lifelike. It is available for only $1.99 as an e-book ISBN978131072753 on the websites of Lot's Cave, Smashwords and Barnes and Noble. A synopsis can be found at any of these sites; Barnes and Noble even offers a few sample pages that give a glimpse of the writer's style. The cover shows the lead character, Emily, holding two airline tickets and the starry like image with the rays are indicative of her power to enchant; enlarging the image will reveal the destination and who the tickets are for, and reading the story reveals what happens on that magical weekend.
Lot's Cave, as its name may suggest, features incestuous fiction.
Forthcoming novellas by Houston Cei aka Henry Hank are: After the Enchanted Weekend: A Sequel, Country Taboo and As Good as it Gets.
Available at: www.lotscave.com
www.smashwords.com/profile/view/lotscave
www.barnesandnoble.com