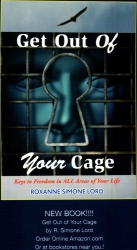 Brooklyn, NY, July 29, 2014 --(
PR.com
)-- "Get Out of Your Cage," Revival & Next Level Expansion
Rev. Simone Lord is on a revival tour with her new book, "Get Out Of Your Cage," a book of Holy Spirit inspired, convincing, compelling, fiery motivation to get people to come out of their comfort zone and live their best lives possible on earth. "Many people have unfulfilled dreams about life, this new book is here to break the chains and propel more people into stardom, all for the kingdom," said Lord.
The female pastor and author of "Get Out of Your Cage," maintains that, "Too many people are dying with their dreams still in their heads. Christians hardly ever use the power vested in them by Christ, to heal the sick, to spread the gospel of good news to the poor and those that do this, do it for money. Too many people are not getting the healing that they need in their lives. Too many people lead messed up, mediocre, unfulfilled, confused and sinful lives. Certainly not the abundant life that Jesus came to manifest."
The pastor feels that "Get Out Of Your Cage," the revival and powerful book, has the power to guide the masses out of any rut and lift them over any obstacle to the success that they seek. "We will set fire to the chains of mental bondage to the past or anything that has one bound. We stand on the authority of the gospel of Jesus Christ giving one the power to break free and soar to their highest potential without looking back! It is time for restoration and expansion." "God wants you to prosper and be in good health, even as your soul prospers! You are a prize and He wants to show you off to the world. He wants you to be a blessing to His people by living a purpose driven life. God has plans for you, beyond your highest hopes and expectations."
Rev. R. Simone Lord is steadfast and determined to set the captives in the global community free of mental turmoil, setbacks, traumas, drama, poverty, and self-centeredness. "Get Out Of Your Cage" gives one the keys to freedom in all areas of one's life. According to one reader, Martin Marcelle, "This book will raise a new generation of prosperous, healthy, purposeful and visionary believers!"
"Those who hope in the Lord will renew their strength. They will soar on wings like eagles; they will run and not grow weary, they will walk and not be faint." Isaiah 40:31 (the Holy Bible, King James Version.)
The next "Get Out of the Cage Revival & Next Level Expansion Event" will be held on August 15, 2014 at Brooklyn Boro Hall, 209 Joralemon Street, Brooklyn, NY from 6:30 pm to 9 pm. The admission is free and the public is invited.
Get Out Of The Cage Revivals are supercharged and anointed to set people free from addictions, lack, illness, poverty, mediocrity and all that binds people and renders them unable to rise to their fullest potential in life. It is time for a shift. Time for healing, restoration and expansion! Come out of the comfort zones and join the Get Out of the Cage movement to claim the blessings necessary for a new and improved life. Send prayer or revival requests to Get Out Of Your Cage, c/o Rev. R. Simone Lord 147-12 Archer Ave, 2nd Floor, Jamaica, NY, 11435. Tel: (917) 720-2485