Launch of New Version of Nelio A/B Testing
Nelio A/B Testing is a conversion optimization service for your WordPress site. The new Version 3.0 is the first big update of Nelio A/B Testing since its launching. It uses a new user interface that is faster and easier to use. It also includes many efficiency and stability improvements.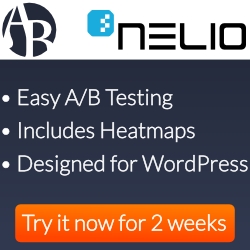 Barcelona, Spain, August 01, 2014 --(
PR.com
)--
Nelio A/B Testing
is a native Conversion Optimization service for WordPress sites that will ultimately help marketers of Wordpress websites better understand their customers and increase their revenues.
The service allows marketers to A/B test (also known as split test) alternatives of any element of their WordPress site and determine which version best achieves their marketing goals. It also allows users to easily create two or more alternatives of any page, post, or theme in their WordPress sites and let out service to automatically evaluate which one converts better (where a conversion could be a site visitor making a new purchase, a subscription to a mailing list, or a visit to a specific page on a site). Essentially, Nelio A/B Testing can help marketers convert their site visitors into their real customers
New 3.0 version of Nelio A/B Testing includes some major improvements:
- A new Dashboard. Relevant information at a glance to better monitor what's going on in their websites.
- Improved code base. There's a lot of new stuff under the hood. AJAX calls, super-efficient mu-plugin, new settings,... all aimed at improving the performance and configuration of Nelio.
- New User Interface. Creating and editing experiments is now easier than ever. Everything works super-smooth—marketers won't keep waiting anymore after each action.
- Documentation. The documentation has been updated to help marketers create experiments and understand their results.
- Advanced Conversion Management. Conversion goals have been redesigned. They are now more powerful (e.g.one can define that several user actions contribute to the same conversion goal), and ready to be extended in every new release.
Anyone already subscribed to one of the Nelio A/B Testing packages, can upgrade its copy of the plugin right now to benefit from all these new enhancements.
If, as marketer or website owner, ever thought you wanted to take more profit or you website, this is your chance— subscribe to Nelio A/B Testing.
Contact
Nelio Software
Ruth Raventos
(+34) 93 551 14 72
http://wp-abtesting.com

Contact