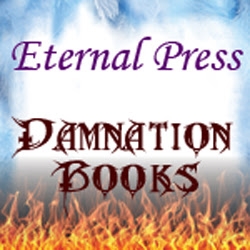 Santa Rosa, CA, August 01, 2014 --(
PR.com
)-- Damnation Books and Eternal Press are pleased to release another round of new fiction titles. Owners William and Kim Richards Gilchrist are continually offering quality fiction at regular intervals.
Eternal Press Titles Released on 1 August 2014
Quintal's Quandary by Nadine Christian
ISBN 9781629291314
Ratings: Heat - 3
Genre: Romance Sub Genre: Contemporary
Blurb: Is a disaster looming on the horizon?
Unflappable, Jen Quintal will divert it. She's a fixer. Confident and fearless, nothing fazes her and no issue is unsolvable. Until now.
When her best friend Felix drops a bombshell and issues her a shocking ultimatum, Jen is rocked to the core. With secrets unveiled and heartbreak on the cards, Jen must strive to put into perspective what is precious and real in her life.
When all you do is solve everybody else's problems, what happens when you find your own life turned upside down and inside out? What if making the wrong decision means losing your best friend forever? The third book in the Bounty's Retreat series.
Spring Fever by Barbara Winkes
ISBN 9781629291352
Ratings: Heat - 2
Genre: GBLT Sub Genre: Romance
Blurb: What does not kill love…makes it stronger.
Callie has a hard decision to make when her ex, Nicole tries to blackmail her with an old secret. The timing could not be worse as Maggie still suffers from nightmares related to previous traumatic events. Andy, a new resident, is eager to make friends and promote the prejudice Callie and Rebecca have grown tired of. They have learned that trust is the most important thing in a relationship, and when you have it, hate cannot touch you.
Whispers in a Dead Man's Ear by Sonnet O'Dell
ISBN 9781629291376
Ratings: Heat - 3
Genre: Romance Sub Genre: Paranormal
Blurb: The doctor is in!
Doctor Kale Swanson is the only vampire psychiatrist in a small town. Usually he spends his nights listening to the undeads' problems but recently branched out to human clients. Pamela is a woman who is cagey about her past and Kale finds himself drawn to her despite a strict belief in a platonic doctor-patient relationship. When two men burst into his office looking for her, Kale throws himself into protecting and claiming Pamela as his own, doing the one thing he swore never to do—get involved.
Damnation Books Released on 1 August 2014
Saving Face by Ron Savage
ISBN 9781629291338
Ratings: Sex - 1 Violence - 4
Genre: Horror Sub Genre: Contemporary
Blurb: Dying isn't the worst thing.
Isabel Nystrome's husband, Eddy, stole money from the Vegas casino he fronted and the syndicate owned. That is how it all started. When the syndicate found out, they sent in Reverend Party…with his chainsaw…with his acid…with his smooth words and his darkness. Oh God, the darkness.
The chainsaw was for Eddy. The acid was a departing gift for the beautiful Isabel. Now., she…needs a face. Who better to provide that face than her twin sister? After all, she wasn't using it. She was nothing more than a cryogenically preserved head, floating in a locker…near her husband's bed.
The Ruiner by Jeff Somers
ISBN 9781629291291
Ratings: Sex - 1 Violence - 1
Genre: Horror Sub Genre: Humor
Blurb: Every Wedding Has a Ruiner.
Thomas Massery has always had a way...with the ladies, with a good bottle of booze, and with a sarcastic quip. Attending a wedding along with three ex-wives is bad enough. Being seated with them gets his dander up. When he sees the bride escaping her own reception, he decides to use his powers for evil...and not for the first time. Because this isn't the first evening Thomas Massery has ruined for everyone.
Distributors include:
US:
Ingram
Amazon.com
Baker & Taylor
Barnes & Noble
NACSCORP
Espresso Book Machine
UK:
· Amazon.co.uk
· Bertrams
· Blackwell
· Book Depository
· Coutts
· Gardners
· Mallory International
· Paperback Bookshop
· Argosy Ireland
· Eden Interactive Ltd.
· Aphrohead
· I.B.S - STL U.K
· Libreria Ledi
· Eleftheroudakis
And more distributors are being added soon.
Please visit Damnation Books at http://damnationbooks.com and Eternal Press at http://eternalpress.biz for darned good fiction at a darned good price.