Sensory, Inc.'s TrulyHandsfree™ Voice Control Featured in Vocca Smart Light Bulb Adapter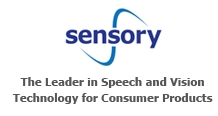 Santa Clara, CA, August 05, 2014 --(
PR.com
)-- Sensory, Inc., the industry leader in speech and vision technologies for consumer products, is pleased to announce that its pioneering TrulyHandsfree™ voice control technology is featured in the voice-activated Vocca light bulb adapter.
TrulyHandsfree™ is the leading always-on, always-listening voice control solution for consumer electronics. The introduction of the TrulyHandsfree™ Voice Control technology revolutionized the speech technology industry for a wide variety of hands-free consumer applications. With an extremely noise robust and accurate solution that responds quickly and at ultra-low power consumption, the TrulyHandsfree™ trigger technology has become the most widely adopted keyword spotting technology in the speech industry. Over 100 million products utilizing TrulyHandsfree™ voice triggers have shipped over the past several years from leading consumer electronics manufacturers such as Motorola, Samsung, and Intel.
Recently launched with a Kickstarter campaign, the Vocca turns any simple light bulb into a voice activated one, instantly. It enables a user to control all the lights from anywhere in the house with nothing more than voice commands. Unlike other smart home connected devices, the Vocca does not require a smartphone to turn one's light on or off, or clapping or turning on a switch of any kind. It is a simple plug and play that does not require any setup, installation, or Wi-Fi—just screw it in between a standard light socket and light bulb and it is ready to go. Equipped with a microphone and Sensory's TrulyHandsfree™ voice recognition technology on its low-power NLP-5x single chip solution, the Vocca can listen to and recognize natural speech and understand commands. Sensory's user defined trigger capability also allows the user to program and select customized commands in the Vocca Pro version.
"Vocca is a truly innovative device. We are thrilled for the opportunity to work with the Vocca design team in bringing the next generation of smart light switch control to mass consumers," noted Sensory, Inc. CEO Todd Mozer.
"We looked at a lot of voice control technologies in the market and found that Sensory had the most accurate one for 'always listening," stated Vocca CEO Ori Indursky. "Thanks to Sensory's market-proven solution, users will be able to turn their lights on and off from anywhere in the house completely effortlessly."
The Vocca Kickstarter campaign ends on September 28:
https://www.kickstarter.com/projects/1679699735/vocca-turn-any-simple-light-bulb-into-a-voice-acti
About Sensory, Inc.
Sensory, Inc. is the leader in UX technologies for consumer products, offering a complete line of IC and software-only solutions for speech recognition, speech synthesis, speaker verification, vision and more. Sensory's products are widely deployed in consumer electronics applications including mobile, automotive, wearables, toys, and various home electronics. With its TrulyHandsfree™ voice control, Sensory has set the standard for mobile handset platforms' ultra-low power "always listening" touchless control. To date, Sensory's technologies have shipped in over half a billion units of leading consumer products. Visit Sensory at
www.sensoryinc.com
For media inquiries, please contact: Shirley Ng sng@sensoryinc.com
About VOCCA
VOCCA is a young innovative team who is dedicated to making life easier and simpler by developing voice activated, easy to use, Plug & Play devices. The VOCCA team launched their first Kickstarter campaign on July 30, 2014 and has already gained worldwide success in the first few days of the campaign. VOCCA is part of the ongoing trend of a smart house and green products revolution. After using VOCCA, you could never go back. For more information, visit:
www.voccalight.com
For media inquiries, please contact: Ori Indursky Ori@voccalight.com
Contact
Sensory Inc.
Shirley Ng
408-625-3309
www.sensoryinc.com
sng@sensoryinc.com

Contact