Computers for Boomers More Popular Than Ever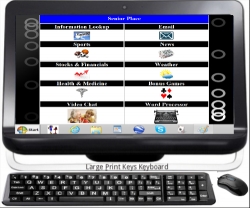 Hollywood, FL, August 06, 2014 --(
PR.com
)-- A Plus Senior Computer, the oldest and largest producer of computers for seniors, announced their biggest quarter ever. With over a decade of experience working with seniors on the computer, A Plus continues to grow with the ever increasing retirement of boomers.
With ten thousand boomers retiring everyday, getting on the computer is just one hobby that boomers want to do now that they have the time. What they don't want to do is have to learn the computer just to get on the internet. "You don't need to know what's under the hood to drive a car and the same is true with the A Plus computer," says Dale Dion, owner and founder of A Plus Senior Computer. "We've been producing computers exclusively for seniors since 1998 and our success speaks for itself."
The
A Plus Senior Computer
is a compact, easy-to-use, fully functional Windows based computer designed especially for seniors. Clearly, one of the biggest advantages of the
A Plus Senior Computer
is it is delivered setup and ready to use right out of the box so seniors don't have to worry about connecting wires or answering questions to get started. This approach takes away a big obstacle for seniors who generally aren't sure where to start when looking for an easy to use computer, and it eliminates any need for assistance with setup as it's already been done.
A Plus Senior Computer offers seven models; three laptop and four all-in-one desktop models. All seven models have exactly the same features with three models utilizing a touch screen for seniors who have trouble using a mouse due to Parkinson. A user-friendly manual along with many of the other A Plus' innovations make using a computer and being on the Internet exceptionally easy for seniors new to the computer.
For further information visit
www.aplusseniorcomputer.com
You can also reach the company by Emailing them at
info@aplusseniorcomputer.com
or by calling 1-800-675-6341.
Contact
Computer Tutor Plus, Inc
Dale Dion
1-800-675-6341
www.aplusseniorcomputer.com

Contact