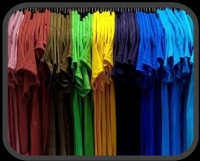 Phoenix, AZ, August 14, 2014 --(
PR.com
)-- Celebrating a huge milestone, for the past 34 years Precision Graphics in Tempe, AZ has been creating custom t-shirts for large and small size orders. Precision Graphics owner, Julie Breazeale at julie@azprecisiongraphics.com, leads the sales team in high quality product knowledge and excellent customer service. Over the past 34 years in the
Screen Printing Phoenix
industry, Precision Graphics has evolved its techniques, environment-friendly inks, and improved the apparel fabric content of a t-shirt. Precision Graphics still maintains its roots in Tempe however their headquarters have quadrupled in size since 1981. Even though Precision Graphics has moved, they still have maintained the same phone number 1-877-967-7015 and website www.azprecisiongraphics.com.
Understanding a customer's purchasing habits today has caused Precision Graphics to develop a more user friendly online ordering solution. Taking screen printing from customers who like to touch, feel, and try on each shirt in the 10,000 sq. ft. showroom; to having a full online e-commerce web store with cool t-shirt designer software to purchase custom screen printed t-shirts. Precision Graphics' online apparel site combines screen printing, direct to garment printing direct to garment t-shirt printing, and embroidery; and all three decoration processes. This kind of t-shirt designer is the leading software in virtual online decorating apparel. Using all the new technology tools from smart phones, iPads, tablets, and cool t-shirt apps are changing the screen printing industry every day. In this fast pace world, these changes make producing the custom apparel clothing faster and faster to meet the customers' demand. Precision Graphics has stayed above the curve with more precise equipment and with faster screen printing features. By making these adjustments with new technology in a more competitive market in the industry of printing t-shirts, embroidery, and promotional products; Precision Graphics pushes forward in better training its staff to keep one step ahead.
"Have a Deadline? We Perform Miracles!" has been Precision Graphics slogan since the founders David and Sandy Breazeale started 34 years ago. Jumping through hoops is exactly what that slogan means as the staff well knows; as they have endured that slogan by keep it true during many obstacles of producing each job on-time and perfect. Precision Graphics is looking to the future and seeing the second generation family business getting ready for its third generation to grab the helm. Many of the online orders come are from all over the nation as Precision Graphics customer data base keeps growing. Making every customers' order meet and exceed their expectations is what Precision Graphics does to get returning orders from a customer; that is their 100% satisfaction guarantee.
Precision Graphics services go well beyond screen printing to include digital direct to garment printing, digital t-shirt printing in Phoenix, embroidery, and custom promotional products on over 750,000 different items for corporate branding and recognition. Precision Graphics has been the industry leader in providing great quality products with extremely fast turnaround times and will for many more years to come.