Local Writer Seeks to Expose the Problems with Capital Punishment
With the number of botched executions mounting, local screenwriter and Indian filmmaker combine their skills to shine light on inhumane treatment with this international collaboration.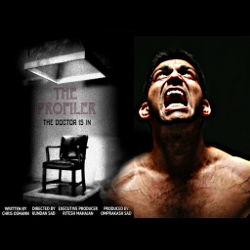 Miami, FL, August 15, 2014 --(
PR.com
)-- In an effort to further expose the issues with the system of capital punishment in America, a screenwriter from Miami, Florida has teamed up with a filmmaker in Mumbai, India to bring to life, The Profiler. Together the pair have already collaborated to produce a short teaser by the same name, and in doing so, have introduced the World to America's first pyschutioner, Doctor Phillip McCleod. Based on his award-winning story, Chris Ossman has detailed a dystopian future where executions have become entertainment for the masses as well as the Doctor who fulfills his twisted and dark passions in plain sight. While Chris is tweaking the script for the first feature-length film of the trilogy that follows the Doctor's exploits, Kundan Sad is adding to his impressive skills set as a filmmaker by working with the most prolific director in the World.
Together, the pair seek to raise money by crowd funding this first film. To assist them in this pursuit, people who find the current system of capital punishment in America flawed, inhumane and appalling can back their Kickstarter campaign, which can be found at the following link:
http://bit.ly/NoMoreExecutions
. Their hope is to produce a film that entertains, while pointing out one possible dark path upon which civilization could find itself traveling.
Contact
CSO Publishing
Chris Ossman
305-903-9982
chrisossman.com
Skype username: fabianmockian

Contact