Alamitos Oral Surgery - Grand Opening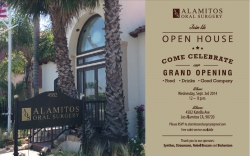 Los Alamitos, CA, August 28, 2014 --(
PR.com
)-- Alamitos Oral Surgery is pleased to announce the Grand Opening of their new state-of-the-art Oral & Maxillofacial Surgery practice in beautiful Los Alamitos, California on September 3rd, 2014. Comprised of UCLA trained Oral Surgeons: Heena Chandra, Solomon Poyourow, and Lee D. Pham, each doctor is licensed in both dentistry and medicine. They provide a wide array of dental and surgical treatments including dental extractions, implants, corrective jaw and sleep apnea procedures, TMJ surgery, facial trauma and facial reconstructive surgeries.
Alamitos Oral Surgery prides itself on being a full scope surgical practice with a fantastic staff, working hard to deliver a superior experience at every visit. The office is equipped with the latest and most sophisticated diagnostic and 3D CT technology to ensure the best surgical outcomes. Their practice philosophy is to provide the highest level of care by emphasizing comprehensive surgical treatment through collaboration with the best medical and dental specialists within Orange County and Long Beach communities.
Come and join them for their open house event on Sept 3rd, 2014 from 12 - 8 pm. Don't miss this opportunity to meet the doctors, enjoy the facility, free food and mingle with your local healthcare providers.
Contact
Alamitos Oral Surgery
Heena Chandra
562-598-4683
www.alamitosoralsurgery.com
Heena Chandra DDS, MD
Solomon Poyourow DDS, MD, MPH
Lee D. Pham DDS, MD, MS

Contact